Description
CCS StrapShot EV-1 for one camera is the perfect camera carrying system for people on the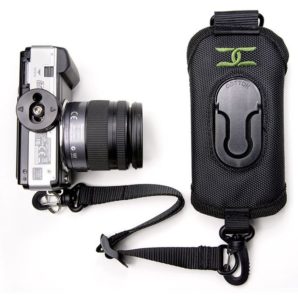 move. Hikers, travelers, skiers, climbers, bikers and more. This compact camera carrying system fastens to the strap of a back pack, sling style bag or even your belt, keeping your hands free, your equipment safe and your body mobile. Ready to shoot. Right now!
The Cotton Carrier StrapShot comes complete with our patented Velcro-Wrap attachment system, C&C machined anodized aluminum camera mount and a camera safety tether.
Specifications:
CCS StrapShot EV-1 includes;:
– EV-1 patented Velcro-Wrap holster
– Anodized aluminum camera hub and rubber washer
– Mounting strap
– Safety tether
– Hand strap
– Camera-hub mounting bolt
– Allen key
– Tether split-ring
– Lifetime guarantee to the original owner.
Patented Twist & Lock Mount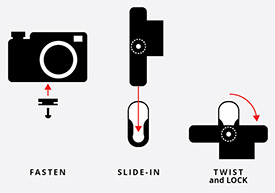 Our patented Twist&Lock Camera Mount System is stable and secure. One twist locks your camera in place, making it difficult for a thief to grab and go. It also stabilizes the camera so you are free to move vigorously without a camera banging around on your body.
Important Notes:
Cotton Camera Carrying Systems involve moving parts that must be maintained periodically.
INSTALL THE CAMERA HUB – use the included tightening tool (Allen Key), tighten the Camera Hub as TIGHTLY AS POSSIBLE. Adequate tightening causes compression of the rubber washer, this is what keeps your camera securely attached to the Lexan Camera Mount. Check it until you are satisfied it is not loosening through the turning action of the camera.
Frequently check the condition of both the Hub and Camera Mount for any signs of wear or damage. Be sure to keep both the Lexan Camera Mount and Camera Hub clean and free of any grit and debris, and clean regularly as you would with any camera component.
Tripod Compatibility:
The CCS StrapShot Holster does not include our Universal Tripod Adapter plate. If you would like to go directly from the StrapShot to your favourite tripod you will need this plate. Buy a Universal Tripod Adapter plate here.
This plate is compatible with most tripod heads on the market. It is cut to fit directly into any Arca-Swiss style head. Designed with enough adjustment holes to slide back and forth on the bottom of your camera to leave the battery door accessible.