The Art of Car Camping with the "Ultimate" Products
Car camping is the easiest way for you and the family to explore that stunning wilderness. Not only can you create your own adventures out there in nature, but by choosing car camping, you don't have to spend a lot of cash to experience the greatest, most memorable vacation.
As with all forms of travel, however, you want to make sure that the car is packed with the right stuff that will allow you to pull into that campsite, pitch that tent, and start to experience your very own base camp. Unlike backpacking up Mt. Everest, or hiking the longest trail Yosemite has to offer, when it comes to the art of car camping, the amount of "roughing it" you do is all up to you.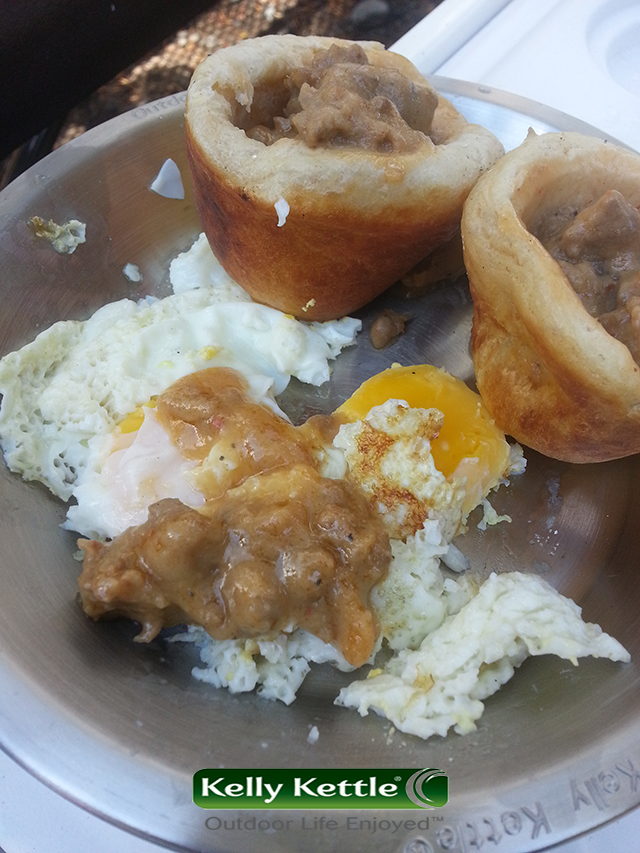 Still…there are ways to make "roughing it" a whole lot easier. That comes from choosing the perfect gear to pack in the car that will allow you to get the most from your camping experience. Enter…Kelly Kettle Ultimate Kits. If you are car camping, this is the company that offers you products that deliver the most convenient way to heat up your water for hydrating food or making that perfect cup of coffee at your own base camp.
This ultimate kit, the Kelly Kettle SST Large Base Camp, includes a large cookset, pot support, a Hobo stove, camp cups, stainless camp plates, and a storage bag for easy packing. It even includes the Redi-Lite Fire Puffs Mini Kit for free!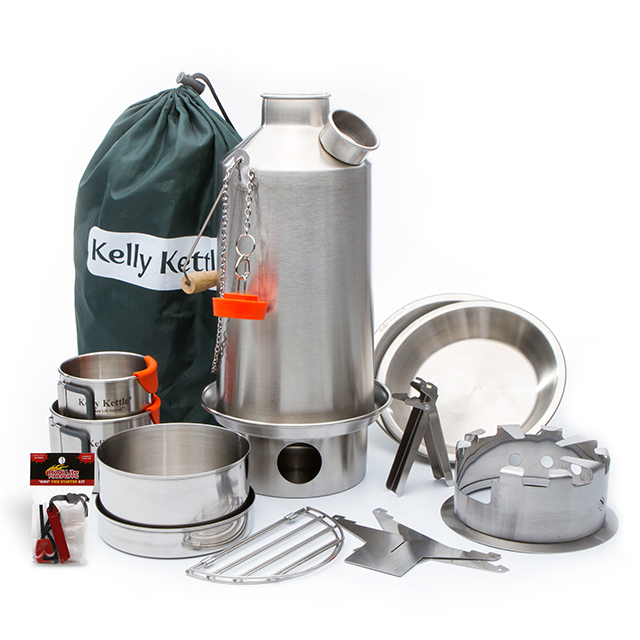 In only minutes, this Kelly Kettle boils approximately seven cups of water at a time and is the perfect size. Even harsh weather conditions are not a problem for the Kelly Kettle. And for heating, no extra fuel has to be brought along. Using whatever solid fuel can be found in the natural world around you (sticks, grass, bark, etc.) it's no wonder that this is the ultimate eco-friendly camping kit with the Kelly Kettle as its centerpiece: a product that's described as being the "Greatest Invention of all Time."
As always with the Kelly Kettle line, however, there is now a brand new product that will literally knock your socks off. The new Woof' Em Sticks Kit.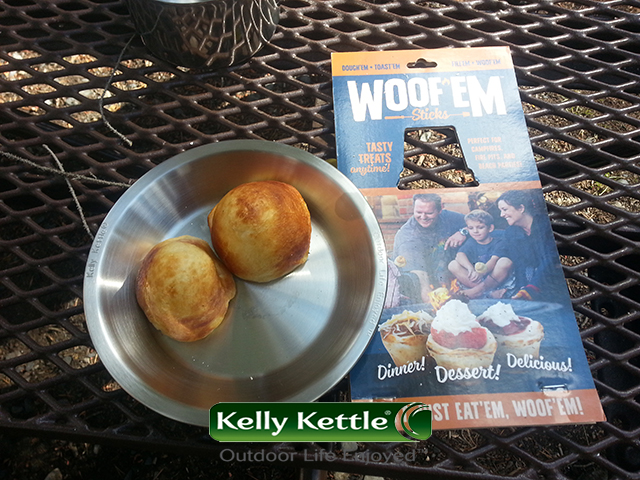 Woof' Ems are little toasted biscuit cups that are absolutely delicious. Fill them with everything from your favorite pulled pork recipe to white chicken chili fixins to scrambled eggs and bacon. And don't forget those luscious desserts! Just think…you can load them up with chocolate pudding, cherry pie filling, fresh fruit – the list is endless – and then "WOOF' EM" down! (Kelly Kettle can guarantee there is no way you will stop at just one.) A perfect addition to the SST Large Base Camp Ultimate Kit, you can enjoy your hot, steaming cup of coffee while toasting these biscuits over your campfire. And the Woof' Em Sticks Kit even includes a Hot Dog Roaster for free!
Talk about increasing the fun of your camping excursion ten-fold. Not only will you make things easier and quicker, but the recipes you can enjoy are a mile long! If you go for that traditional camping favorite, though, make sure to look over your shoulder. Because when that fire-roasted marshmallow and a layer of chocolate becomes your choice of Woof' Em treat, that beautiful doe exploring the wilderness may just drop by to share your very special s'mores!
Look over the rest of Great Out Products at Kelly Kettle.com