Description
Tranquility Fishing Shirts, Adventure Fishing Hoodie
Tranquility Fishing Shirts are 1/4-Zip Hydrophobic Flex Shield Fleece Adventure Hoodie art by Travis Sylvester's Tranquility portrays a beautiful rainbow trout so big it has to wrap around the back.
Tranquility is a day hiking a stream casting to individual risers, testing your skills on presentation.  One thing I learn many decades ago there on three things that matter in fly fishing and its, Presentation, Presentation, Presentation.  Once you master this your days will be more catching.  A late summer favorite combo is a size twelve or ten foam hopper with a size sixteen soft hackle ant trailing about fourteen inches behind the hopper.  Hopper is really more of a strike indicator, but have caught my share of trout on it as well.  To add even more meaning to the word tranquility, just knowing that you could fish every day for a year and not cover all the small streams in just the Yellowstone Park area is truly amazing in its self.  Its very plausible to through on a backpack type fishing vest and not see another person all day.  One thing to remember is be aware of your surroundings, there are buffalo and a few bears hear and there.  I carry bear spray with me,  Also don't keep the bear spray in the back, have it accessible, easy to grab.  Have fun and be safe.
This 1/4-Zip FlexFleece Fishing Hoodie features thumb-hole cuffs, a zippered chest pocket, side pockets, an articulated hood, and power-stretch fabric for comfort and fit unmatched. High Quality Performance Fly Fishing Apparel and Clothing Accessories, enhancing your day on the water or trail.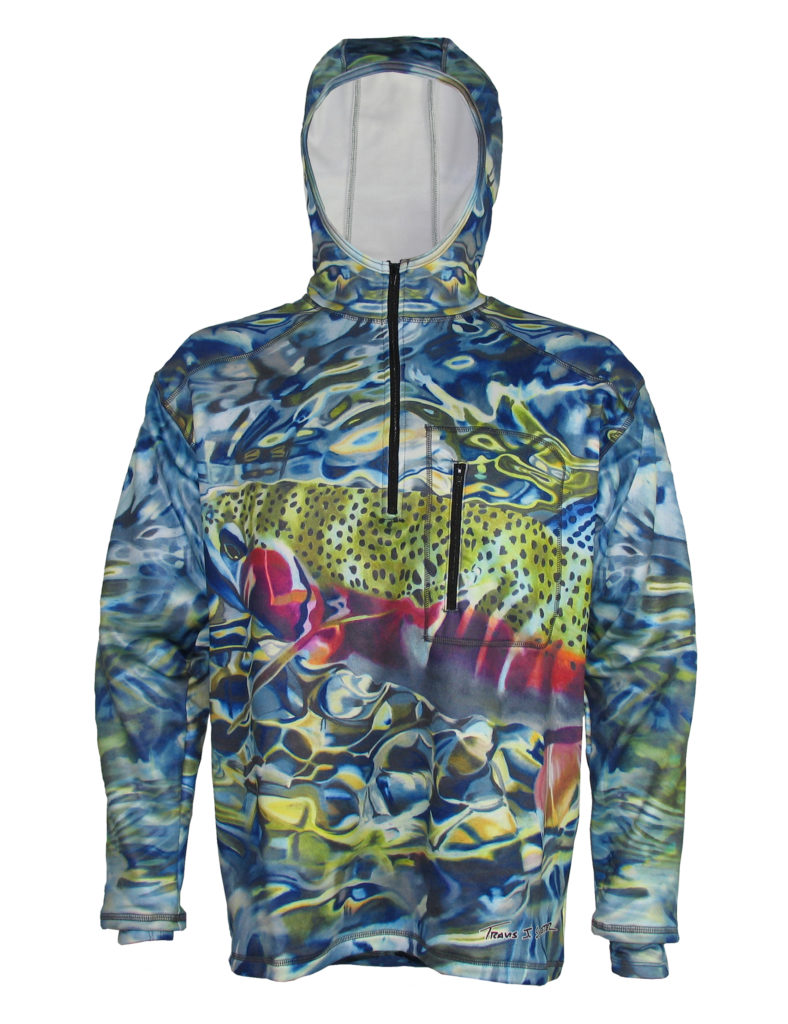 Tranquility Fishing Shirts are a Hydrophobic Flex Shield Fleece Fishing Hoodie that has dual side pockets and was field tested by our staff on a early spring outing to a mountain lake in the San Isabel National Forest. Our clothes are field tested every day, one of our staff is wear a piece of quality performance apparel.
Left the trail head at 7 am as the sun was cresting the mountain peaks, it was a balmy 41 degrees. As we past the junction of Browns Creek Falls on our way to Browns Lake, big thick black clouds were rolling in.  We reached the lake in another three and half miles as the snow and wind began coming down off the mountains with a gale force white out.  Deciding that it was a good time to turn and head back down the mountain, in the next mile or so the snow turned to hail and then to a hard driving rain.  At this point I briefly thought about digging my rain jacket out of my pack, but then I remembered the mission was to test this new fabric.  At this point I began timing how the fabric was performing against the elements.  It took 30 minutes before I could begin to feel the moister coming through and another thirty minutes before I was soaked.  Stop got out my rain jacket leaving on the wet Hydrophobic Hoodie and continued the three miles down the trail head and never got cold, even though I was wet.  At the vehicle I took off the pack and rain jacket, throwing them into the back seat, leaving on the wet hoodie.  Cranked the head and headed home 90 miles away.  I arrive in a little over an hour and half with the hoodie almost completely dry.  I was so impressed here we are today with this great hoodie for you to enjoy with comfort in your life's adventure.  Peace Out.

[contact-form-7 404 "Not Found"]
Thank you