Description
Freestone 1/4-Zip  Fishing Shirts Adventures in Fly Fishing Apparel
Freestone 1/4-Zip Fishing Shirts Adventure Hydrophobic Flex Shield Fleece Fishing Hoodies art by Travis Sylvester's Freestone portrays a cutthroat trout immediately upon release. Freestone Fish Adventure Hoodie's added comfort will enhance the memory of those days on the water.  A Freestone stream is by definition a stream who's water flow derives from natural sources of rain, snow melt or springs.  Freestone streams have very few rooted aquatic plants and a plethora gravel and rocks.  Rocks and boulders creating great pocket water to spend a day fishing.  Some of the best Freestone streams run through canyons with small drops creating pools with short runs and tail-outs.  Mid summer can be great dry fly fishing with attractor patterns.  Have witnessed eighty fish to the raft in as short as six hours.  Sizes ranging from six inches to twenty two inches.  When its Hot, its Hot!
Great attractor patterns are, Royal Trude, Royal Wulff, Simulators, Convertible ( one of my favorites), Guffus Bugs.  I like fishing one of these while trailing a small ant soft hackle or some other type of soft hackle.
This 1/4-Zip Hydrophobic Flex Shield Fleece Hoodie features thumb-hole cuffs, a zippered chest pocket, a three piece hood, articulated shoulders, and power-stretch fabric for comfort and fit unmatched. High Quality Performance Fly Fishing Apparel and Clothing Accessories.
As a company,  as individuals and a group, we are strong supporters of public land and can't stress enough how everyone needs to get involved with a local conservation in your area and do all we can to save our "Wilderness Areas, Monuments, and other Public Lands".
Don't Let Our Government become very reckless with Nature and Our Public Lands!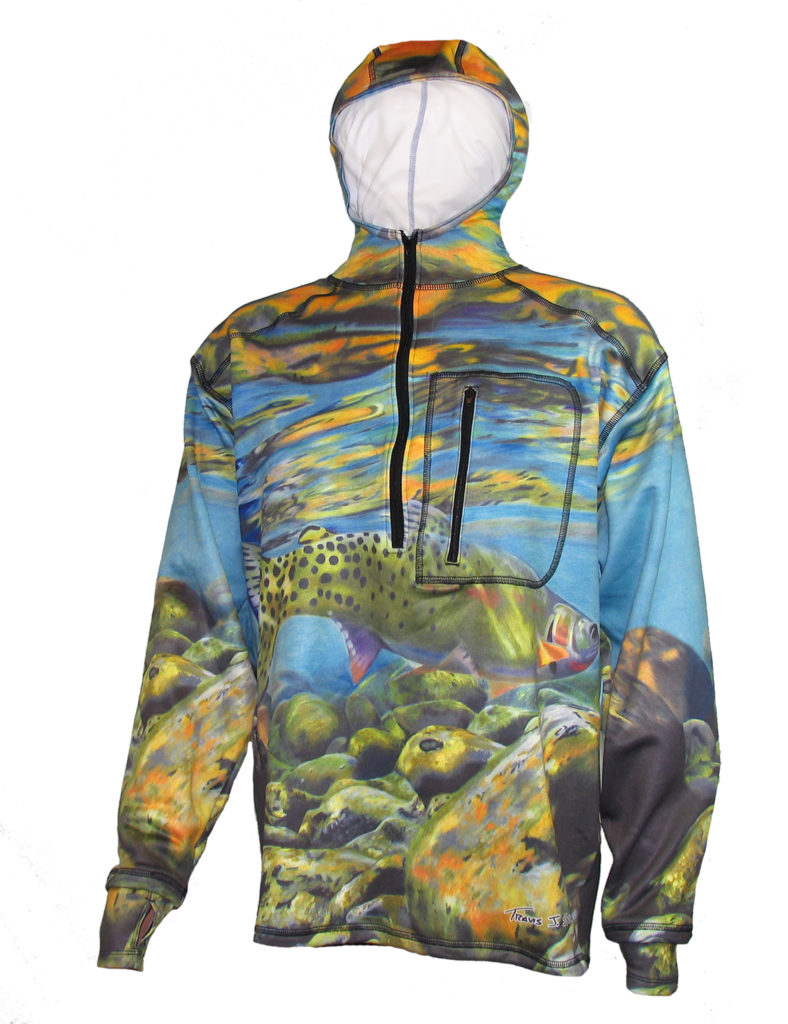 Our Hydrophobic Flex Shield Fishing Hoodies have dual side pockets and was field tested by our staff on a early spring outing of to a mountain lake in the San Isabel National Forest.
Hiking Clothes in Outdoor Adventure Test of Performance
Left the trail head at 7 am as the sun was cresting the mountain peaks, it was a balmy 41 degrees. As we past the junction of Browns Creek Falls on our way to Browns Lake, big thick black clouds were rolling in.  We reached the lake in another three and half miles as the snow and wind began coming down off the mountains with a gale force white out.  Deciding that it was a good time to turn and head back down the mountain, in the next mile or so the snow turned to hail and then to a hard driving rain.  At this point I briefly thought about digging my rain jacket out of my pack, but then I remembered the mission was to test this new fabric.  At this point I began timing how the fabric was performing against the elements.  It took 30 minutes before I could begin to feel the moister coming through and another thirty minutes before I was soaked.  Stop got out my rain jacket leaving on the wet Hydrophobic Hoodie and continued the three miles down the trail head and never got cold, even though I was wet.  At the vehicle I took off the pack and rain jacket, throwing them into the back seat, leaving on the wet hoodie.  Cranked the head and headed home 90 miles away.  I arrive in a little over an hour and half with the hoodie almost completely dry.  I was so impressed here we are today with this great hoodie for to enjoy with comfort in your life's adventure.
Fishing Hoodies are warm Fishing Shirts with outdoor performance in shielding the elements.
Peace Out.

[contact-form-7 404 "Not Found"]
Thank you