Description
Trout Dreams Fly Fishing Apparel Sun Gloves
Trout Dreams Fly Fishing Sun Gloves provide extreme sun protection as well as preventing blisters on long rows. We feature Josh Udesen's "Trout Dreams" print on these cooling wicking poly-Spandex Sun Gloves. The tough 55% nylon, 45% polyurethane microfiber palms are perfect for fishermen, rowers, bikers, and anyone who wants to show off their general fishy-ness. Two sizes.
Great comfort and sun protection, while fishing or other outdoor adventures, performance clothing.
Spending the day on outdoor adventures with the ease to operate a camera, tie on fly or row a boat, these fishing gloves are the ticket to meet your needs. As a fingerless glove they are great driving gloves with great gripping ability of the steering wheel. I always carry an extra pair the comfort and sun protection you will not want to live without.  Making part of my living as photographer and cinematographer I love these gloves.  I would be a shame to miss that once in a lifetime shot as the grizzly bear steps into the scene.  A life lived outdoors is a life well lived. Go kick up a little trail dust.  Sleep outside and enjoy the stars, cowboy style camping is a great way to enjoy a summer night of stars and the milky way.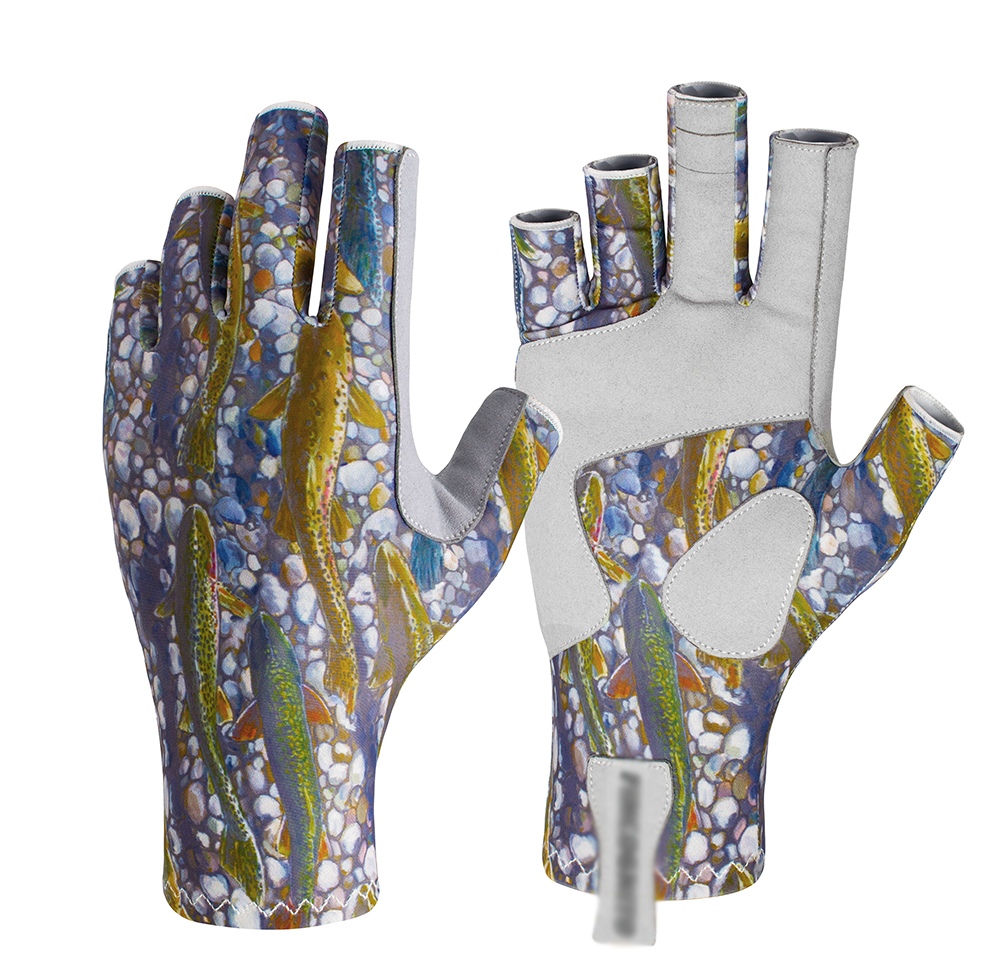 Fly Fishing or Hiking Clothes on the Trail
Sun protection gloves come in Brown Trout, Brook Trout or Rainbow Trout Gloves as Fly Fishing Apparel. Other great choices are Trout Dreams Patterned Leggings or view all the Fly Fishing Apparel Printed Fishing Gloves.  Make sure to pick a pair or two today.