Description
Backpacking Fly Rod Set-Up is light to pack in and deadly accurate casting to rising fish on a high mountain lake or stream. Enjoy some remote fishing and back country camping with this perfect combo.
Classic Fly Rod range has proved to be popular with customers just starting out in fly fishing as they have for those just looking for a great fly rod at an affordable price. These are high modulus, lightweight graphite rods with an easy action for effortless casting.
Features:
4-Piece Rod
Fast action blanks generate high line speed for maximum distance.
Lined stripper rings, high lift snake intermediates, and oversize hayfork tip rings.
A-grade cork handles.
Lightweight black aluminum reel fitting.
Fixed butt extension on #6-7 weight rods
Finished in a rich hazel color with matching whippings.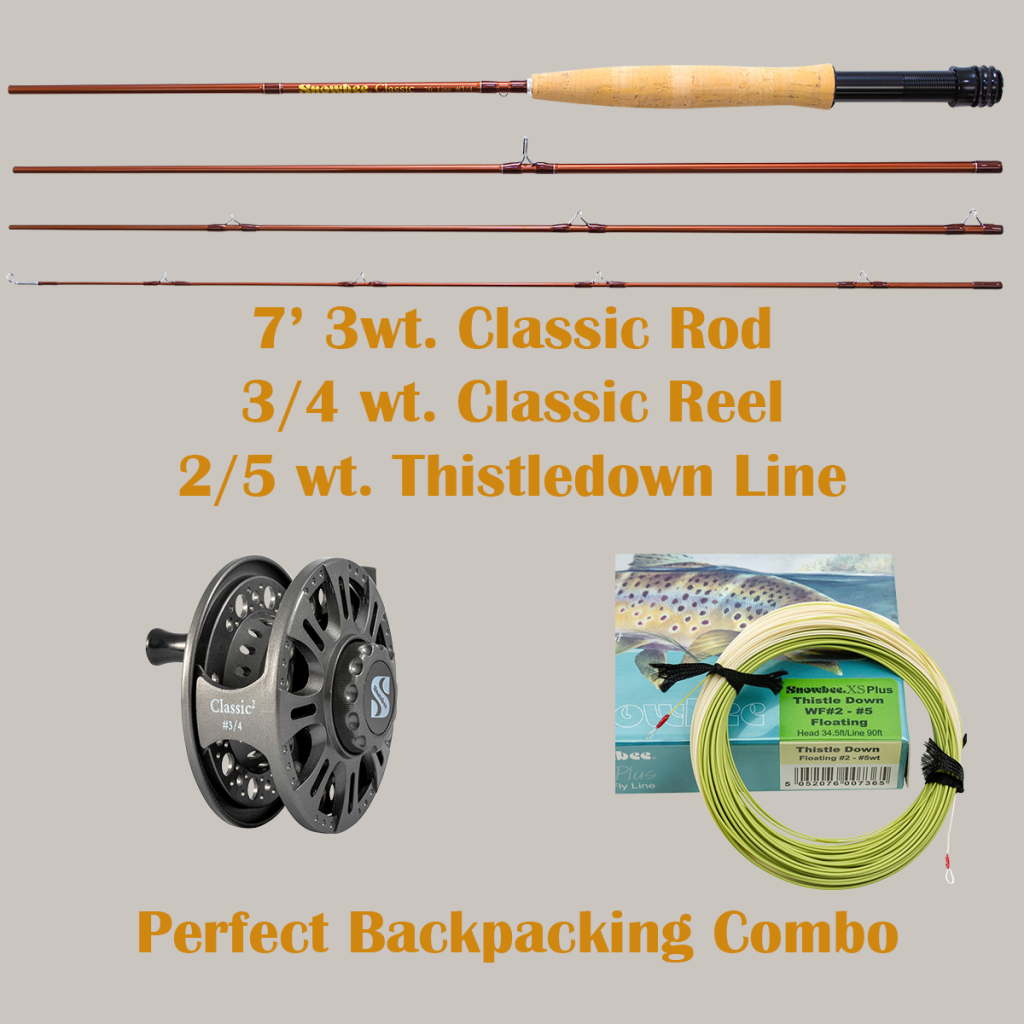 Classic Reel is famous for….. top quality product at mid range prices. This superb reel is precision molded from glass fiber reinforced nylon, to provide a lightweight rigid frame which is totally corrosion proof. The large arbor open cage design provides fast retrieve and minimal line memory off the spool. The rear control, stacked, multi-disc composite and stainless steel drag system has a smooth, sensitive detent to take the drag smoothly from 'off', to 'maximum' setting and provides amazing performance for a reel of this price.
XS-PLUS THISTLEDOWN
2
 FLY LINE DOES NOT COME IN A DESIGNATED LINE WEIGHT, BUT IN A RANGE OF LINE WEIGHTS. 
The #2-5wt line works on all #2, #3, #4, and #5 rods and the #5-7wt works on all #5, #6, and #7 rods! With new braided line technology, the Thistledown2 fly line is even finer than before while being thoroughly stronger, and more supple and smoother than ever before, allowing you to cast with multiple rod weights, in multiple scenarios.
More Great Gear
---
---
Brook Trout ¼-zip Hydrophobic Flex Shield Fleece Hoodie: Click Here
Freestone 1/4-Zip Hydrophobic Flex Shield Fleece Fish Adventure Hoodie: Click Here
Mayfly Snack 1/4-Zip Hydrophobic Flex Shield Fleece Fish Adventure Hoodie: Click Here
Not Over Yet 1/4-Zip Hydrophobic Flex Shield Fleece Fish Adventure Hoodie: Click Here
Brown Snack 1/4-zip Hydrophobic Flex Shield Hoodie: Click Here
Mayfly Snack 1/4-Zip Hydrophobic Flex Shield Fleece Fish Adventure Hoodie: Click Here
TARPON ONLINE 1/4-ZIP Hoodie is Hydrophobic Wind Resistance: Click Here
Tranquility 1/4-Zip Hydrophobic Flex Shield Fleece Fish Adventure Hoodie: Click Here
UGV Brook Trout 1/4-Zip Hydrophobic Flex-Shield Hoodie: Click Here
Green Brown 1/4-Zip Hydrophobic Flex-Shield Hoodie: Click Here