Eldorado Canyon Trial, Video Trail of Trail Episode Three
Eldorado Springs was established and quickly became known as a "posh" resort, to say the least. From artesian springs to elegant hotels, this was the place where celebrities and the elite could enjoy a peaceful getaway.  This area also became known for the breathtaking and extremely scary tight rope acts that one, Ivy Baldwin, performed across the canyon—suspended 580 feet in the air.
>
Hiking the Eldorado Canyon Trail will not only offer you the unforgettable scenery but also a ton of exercise.  Open to both pedestrians and those enjoying a horseback ride, this unpaved 3 ½ mile trail is more than a bit difficult. Beginning at 6,000 feet, the trail gains another 1,000 feet in elevation and intersects the Walker Ranch Loop which, if taken, adds an extra 7 miles to your journey before taking you back to the Inner Canyon on Eldorado Canyon Trail.  Eldorado Canyon Trail offers side spur trails leading to great rock climbing opportunities.  The canyon is a very popular destination for climbers.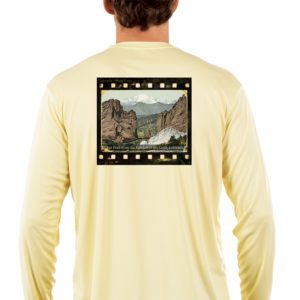 Colorado Living is Attitude,
Tough enough to climb 50 plus 14er's, backpack the 500 plus miles of the Colorado Trail or any other wilderness area, wading a river to gently placing a fly in front of a rising trout.
Outdoor and Fitness Performance Gear Enhancing your Outdoor Experience.
Colorado Native Wear™,
"Lifestyle Gear as Unique As You!"
Discover; http://bit.ly/2gefeTuColoradoNativeWear
Grab your Ski's, Fly Rod, Pack, it doesn't Matter.
Let's Go Explore!
Stop by Trail of Highways™
Discover Adventure; https://goo.gl/BYASZg
Happy Trails 😉
Colorado Native Wear™
All Rights Reserved
"Its Been a Most Excellent Adventure"
 RoadTrek TV©
All Rights Reserved
Music: composed by Pat Surface – copyright Spiritwood Music' – http://www.SpiritwoodMusic.com
Tracks: Cabin Fever / End of the Road
We are Social Travel!
Protect our Public Lands, Wilderness, Monument Lands, from our Government and Commercial Interest! 
Support Local Conservation Organizations!