Hike to Mills Lake, Video Trail of Trail
On this day we hiked to Mill Lake from the Glacier Gorge Trailhead, in Rocky Mountain National Park.
Hike to Mills Lake is moderate with an elevation gain of seven hundred and eighty feet.  Four tenths of a from the trailhead you will cross Chaos Creek, with a trail junction up to Bear Lake goes to your right.
Alberta Falls makes a beautiful cascade over a thirty-foot cliff, Just a little over three fourths of a mile on up Glacier Creek.  Beyond Alberta Falls in one mile and six tenths is the junction to the trail up to Longs Peak, stay right to continue on to Mills Lake.  In another half mile you reach the junction for Mills Lake, as well as many other destinations, the Loch, Sky Pond, Haiyaha Lake, and even turn this hike into a loop hike down to Dream Lake, Bear Lake and back to the Trailhead at Glacier Gorge.
Continuing onto Mills Lake crossing Vale Brook entering into Glacier Gorge.  Upon reaching the two mile and four tenths mark, is a small trail just before the foot bridge that goes forty yard to Glacier Falls.
,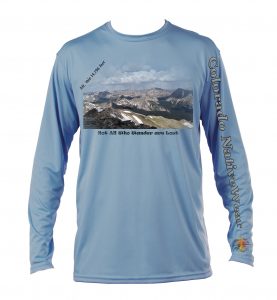 Colorado Living is Attitude,
Tough enough to climb 50 plus 14er's, backpack the 500 plus miles of the Colorado Trail or any other wilderness area, wading a river to gently placing a fly in front of a rising trout.
Outdoor and Fitness Performance Gear Enhancing your Outdoor Experience.
Colorado Native Wear™,
"Lifestyle Gear as Unique As You!"
Discover; http://bit.ly/2gefeTuColoradoNativeWear
Grab your Ski's, Fly Rod, Pack, it doesn't Matter.
Let's Go Explore!
Stop by Trail of Highways™
Discover Adventure; https://goo.gl/BYASZg
Happy Trails 😉
Colorado Native Wear™
All Rights Reserved
"Its Been a Most Excellent Adventure"
 RoadTrek TV©
All Rights Reserved
Music: composed by Pat Surface – copyright Spiritwood Music' – http://www.SpiritwoodMusic.com
Tracks: Cabin Fever / End of the Road
Learn More about the History of National Parks: Click Here
We are Social Travel!
Protect our Public Lands, Wilderness, Monument Lands, from our Government and Commercial Interest! 
Support Local Conservation Organizations!