When it comes to the beauty and grandeur of the Great Outdoors, Colorado Springs most assuredly secures a spot on the 'Top 5' list of locations where you can 'bond' with nature. From the fall colors, to the winter skiing, to the peaks and valleys, this city has it all. A great way to enjoy these visual pleasures is to pick a trail and start hiking. Colorado Springs has a variety, to say the least – from easy to moderate to difficult – and here are the "Top 5" that should not be missed.
Cheyenne canon not only allows you to enjoy approximately two hours and thirty minutes of beauty and exercise, but it also offers a wealth of sights to see along the trek. From viewing Starr Kempf's memorable sculptures to having a fascinating time at the Starsmore Discovery Center, the trail also makes its' way past historic mansions, the Pauline Chapel, and the Penrose Heritage Museum, to name a few. And if you enjoy off-roading, the Cañon trails are perfect for that, as well.
Palmer Peak, north of downtown Colorado Springs, has numerous hiking, biking, and riding trails. Although hard to believe that this open space is inside the busy city, it's a great hike for those who wish to view the beautiful rock formations. Depending on the level of exercise and time you have to spend, you can choose a 'quick and easy' trail, and ones that are a bit more difficult.
Pulpit Rock is yet another locale that features many trails to explore. There are easy, flat gravel paths, and there are others available that go all the way up to the top of the Overlook. Great views of Colorado Springs can be found, as well as a magnificent 'must photograph' sight of Pikes Peak off in the distance. Available to hikers and mountain bikers, it can be accomplished within approximately an hour. But being that there are some hazards, be careful when biking, and enjoy!
Mount Cutler Trail begins at a fairly easy pace and gets harder near the end, but is most definitely worth it. Arriving at the summit of the Muscoco Trail, its fun and challenging, with spectacular views along the way. Most visitors recommend continuing to the "point" in order to enjoy the panoramic views of Colorado Springs and the surrounding areas. If you lean toward the more adventurous lifestyle, you can hop on Mount Muscoco Trail for a longer hike.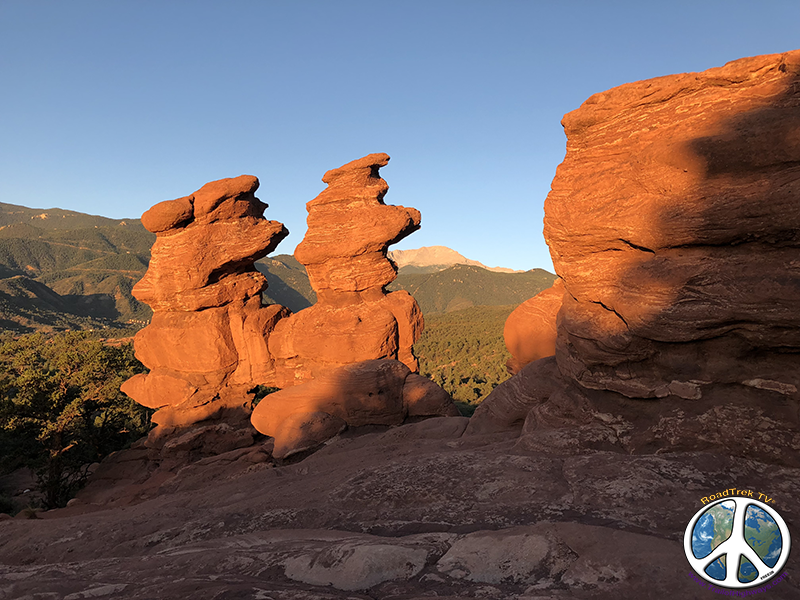 Last, but not least – in fact, it is the #1 rated U.S. Park by TripAdvisor – is the Garden of the Gods Hiking Park. Here you get to choose from paved and natural trails that wind through one-of-a-kind red rock formations and those created from the most recent geological movements. Offering views of Pikes Peak, an off-leash dog area can be found near Rock Ledge Ranch. A total of 585 acres, this space can be accessed via two trailheads and offers easy to moderate trails.
Iconic views, relaxation, exercise, and a true learning experience – plan your trip to 'take a hike' Colorado Springs.
Similitudes of Colorado Springs Garden of the Gods Hikes
Garden of the Gods Photo Essay 2: Click Here
Garden of the Gods Photo Essay One: Click Here
Rainbow in Garden of the Gods; Click Here
Garden of the Gods Essay Four: Click Here
Follow the seasons in the Garden of the Gods; Click Here!
A Loop Hike in the Garden: Click Here!
Loop Hike Video Trail: Click Here
Loop Hike Video Trail Two: Click Here
Great Fly Fishing Apparel and Outdoor Accessories / Apparel
---
Arch Climber Sunpro Hoodie Rock Climbing Apparel: Click Here
Slick Rock Biking Hoodie Outdoor Apparel: Click Here
Climbers Kneebar Bamboo Shirt: Click Here
Climbing Big Wall Leggings Yoga Pants Climbing Apparel: Click Here
JPL Rock Climbing Leggings Outdoor Apparel: Click Here
Dorado Skin Fly Fishing Apparel Gloves: Click Here
Tarpon Dry Bag Backpack: Click Here
As a company, as individuals and a group, we are strong supporters of public land and can't stress enough how everyone needs to get involved with a local conservation in your area and do all we can to save our "Wilderness Areas, Monuments, and other Public Lands".
Don't Let Our Government become very reckless with Nature and Our Public Lands! Support Your Local Conservation Organizations!
Colorado hiking trails offer a diverse topography. In this environment we field test our hiking clothes, fishing shirts and lots of fly fishing gear. Fly Tying Recipes can be found on pages within.