Description
Fishing Hoodie Fly Fishing Apparel The Snack Rainbow Trout
Outdoor Apparel Camping Hiking Fishing
Hoodie Fly Fishing Apparel The Snack Rainbow Trout A D Maddox Sunpro UV-protective hoodies use a blend of poly fabric that is lightweight, very breathable, an won't know you have it on, yet it blocks out alm cuffs and an internal stow-away neck gaiter. Snack Rainbow trout Fly fishing apparel bring breathability and moisture wicking to the river or trail.  Fly fishing apparel designed by fly fisherman for fly fishermen and women.  Women's fly fishing apparel is one of our specialities. Leggings for trail running or just a night on the town we have you covered literally.  Men's fly fishing apparel as well, with great unisex designs and awesome pull over fishing shirts to meet the demands of all weather conditions.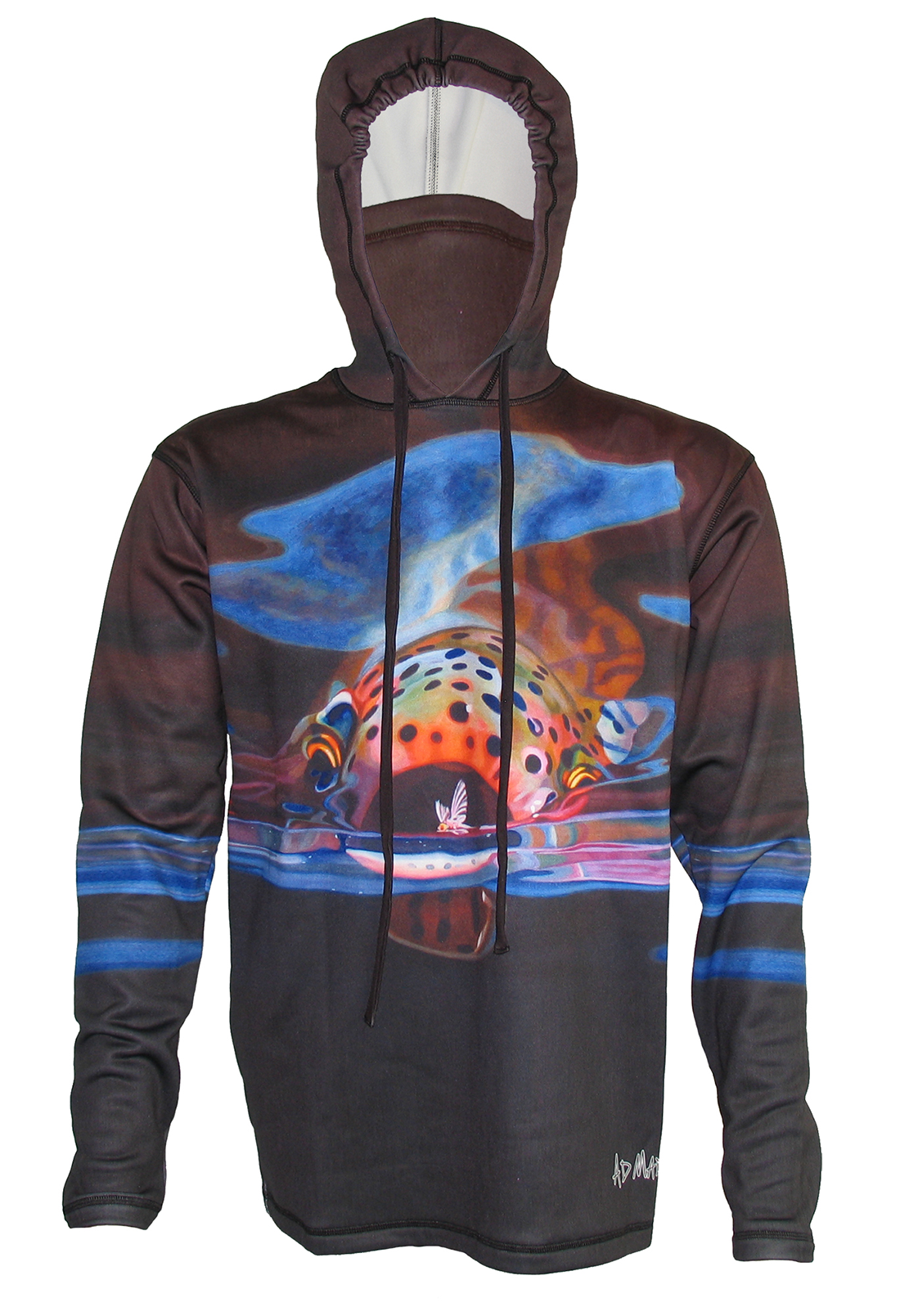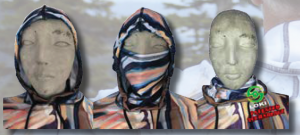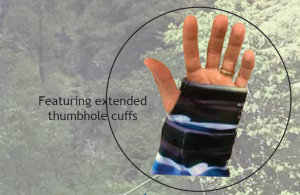 Our revolutionary design (Patented Loki technology) keeps a face mask ready for you at a moment's notice. Simply reach behind your head, pull it over and cover your face, instant sun protection or warmth. Or keep it lower as a Neck Gaiter to keep harmful rays from your neck.
AD Maddox is a Tennessee born Fly Fishing Artist who's roamed the west on her Ducati with Brush and Fly Rod in Hand.
AD Maddox's fly fishing art brings a serene quality of nature to every piece of fly fishing apparel, creating the feeling of being on the river with every step.
Catching Rainbows in Fly Fishing Apparel
Small Baetis offer great dry fly fishing from march into late November in some regions of the rocky mountains. Other Rainbow Trout favorites in the dry fly arena of fly fishing is cripples, spinners, and the beloved caddis flies. Caddis flies fished from the laying in the case to pupa or nymph fishing is very effective at catching rainbow trout.  Swing pupa's on a spey rod such as a single handed 11′ 3 weight is the most fun to me.  Caddis dries can be very explosive. On the Missouri river in Montana we use to swing elk hair caddis on a tight line long after dark, till one in the morning with great success.
Rainbow Trout are cousins to salmon, and are a cold-water fish. Rainbow Trout are found coast to coast providing a serene fly fishing experience to those who wonder out looking.  Rainbow Trout are a symbol of a health stream.  Grab some Fly Fishing Apparel and head out for your next great Outdoors Adventure today.
Great Fly Fishing Apparel and Outdoor Accessories
---
AD Maddox Upper Gros Venter Brook Trout Fly Fishing Apparel Hoodie: Click Here
Arch Climber Sunpro Hoodie Rock Climbing Apparel: Click Here
Big Wall SunPro Hoodie Rock Climbing Apparel: Click Here
Bonefish Sunpro Hoodie Fly Fishing Apparel: Click Here
Brook Trout Sunpro Hoodie Fly Fishing Apparel: Click Here
Hoodie Fly Fishing Apparel, Brown Snack, Brown Trout A D Maddox: Click Here
Freestone Cutthroat Trout Sunpro Hoodie Performance Apparel: Click Here
Rock Climbing Hang Out Sunpro Hoodie:

Click Here
Hoodie Fly Fishing Apparel The Snack Rainbow Trout A D Maddox:

Click Here
Hoodie Fly Fishing Apparel Took the One Rainbow Trout A D Maddox: Click Here
Permit SunPro Hoodie Fly Fishing Apparel: Click Here
Redfish Sunpro Hoodie Fly Fishing Apparel: Click Here
Slick Rock Biking Hoodie Outdoor Apparel: Click Here
Tarpon Hookup SunPro Hoodie Saltwater Fly Fishing Apparel: Click Here
Tranquility Rainbow Trout Hoodie Fly Fishing Apparel: Click Here
ABOVE THE CLOUDS HOODIE Sun Protection with Style: Click Here
Outdoor Trails Follow Your Heart
---
Mount Yale Hike 1-4 Colorado 14er Video Trail: Click Here
Ascending Majestic Colorado "14ers": Click Here
Mount Democrat Hike 1-3 14er: Click Here