Description
Not Over Yet 1/4-Zip Fishing Shirts Adventure Fish Hoodies
Not Over Yet 1/4-Zip  Fish Adventure Hoodies, are a Hydrophobic Flex Shield Fleece Art by AD Maddox's Not Over Yet portrays a hefty brown trout just not quite ready for the net.  One more run should do it. Brown Trout can be a very exciting fresh water species to and stalk.  I have hooked these beauties with glow in the dark woolly buggers to size twenty-two midges.  Fishing hoppers in August can be very explosive experience.  Once during spring run-off using a size four white crystal chenille woolly bugger I  managed to hook and land a twenty four inch Brown Trout on a small mountain stream.  If you like big fish and exciting takes, this is the ticket. Fishing mice patterns well after dark  on one of my favorite Brown Trout rivers we managed to land a half a dozen eighteen inch plus Brown's.  It was really more like bass fishing with a hula popper.  The takes were very furious with solid takes, you didn't have to worry about setting the hook, they did it for us.  Brown Trout were introduced to America rivers around 1776, interesting year to enhance our fishing opportunities.
This 1/4-Zip Hydrophobic Flex Shield Fleece Hoodie features thumb-hole cuffs, a zippered chest pocket, an articulated hood, and power-stretch fabric for comfort and fit unmatched.  High Quality Performance Fly Fishing Apparel and Clothing Accessories, enhancing your day on the water or trail.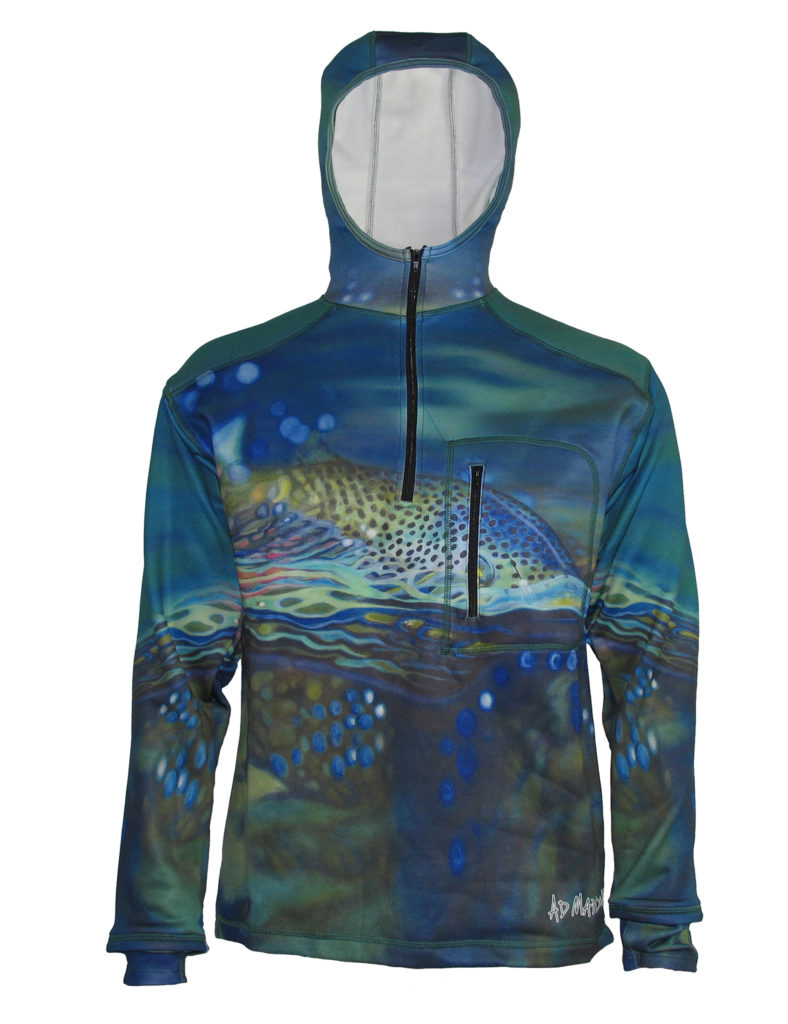 Our Hydrophobic Flex Shield Fishing Hoodies have dual side pockets and was field tested by our staff on a early spring outing to a mountain lake in the San Isabel National Forest.
Headed out of  trail head at 7 am as the sun was cresting the mountain peaks, it was a balmy 41 degrees. As we past the junction of Browns Creek Falls on our way to Browns Lake, big thick black clouds were rolling in.  We reached the lake in another three and half miles as the snow and wind began coming down off the mountains with a gale force white out.  Deciding that it was a good time to turn and head back down the mountain, in the next mile or so the snow turned to hail and then to a hard driving rain.  At this point I briefly thought about digging my rain jacket out of my pack, but then I remembered the mission was to test this new fabric.  At this point I began timing how the fabric was performing against the elements.  It took 30 minutes before I could begin to feel the moister coming through and another thirty minutes before I was soaked.  Stop got out my rain jacket leaving on the wet Hydrophobic Hoodie and continued the three miles down the trail head and never got cold, even though I was wet.  At the vehicle I took off the pack and rain jacket, throwing them into the back seat, leaving on the wet hoodie.  Cranked the head and headed home 90 miles away.  I arrive in a little over an hour and half with the hoodie almost completely dry.  I was so impressed here we are today with this great hoodie for to enjoy with comfort in your life's adventure.  Peace Out.
Hiking Clothes to Fishing Shirts our fly fishing apparel is the best in both performance and style no matter your adventure.  Get a Shirt today and kick up some trail dust or cast a fly setting it adrift in your favorite run in total comfort.