The "Ultimate" Product that's a Backpacker's Dream
Not all those who wander are lost…and when it comes to backpackers—the ultimate wanderers—there's a product that will add ease to each and every journey they take.
The outdoors is a magnificent place. Trekking through nature, taking time out to see the world around provides a combination of well-needed exercise and well-earned peace. It is a fact that enjoying all Mother Nature has to offer is a real blessing, and there's one company always working to create reliable products that take the worry out of travel and allow backpackers to truly enjoy the trek.
The Kelly Kettle came from Ireland , one of the most stunning countries when it comes to vistas, views, and memorable journeys. Kelly's still live in Ireland – Still run a fishing guide service on the Lough Conn where the Kelly Kettle all started. Boiling up hot water for their afternoon tea for their clients. Kelly Kettle mainly started with Fishing. Backpacking came later when the Trekker kettle was developed many years later. The family understood all that a backpacker would need and how to make those products that would outlast competitors for over 100 years…and still counting.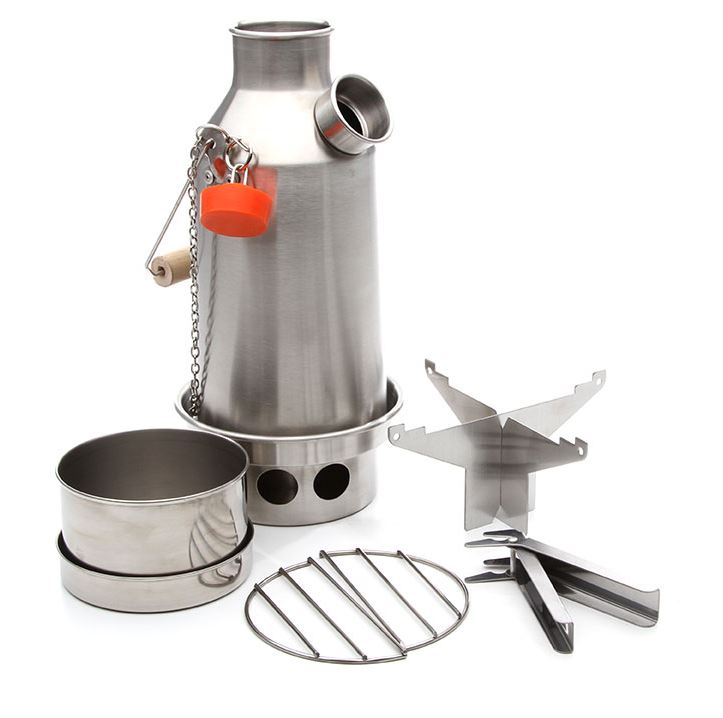 The Kelly Kettle became famous and the absolute "must-have" for backpackers allowing them to boil water quickly and easily, even in extreme weather conditions. Using natural fuel so that no backpacker had to take on the extra weight of carrying batteries or other types of fuel up and down mountains, the Kelly Kettle remains one of the most highly valued pieces of gear on the market today.
But now…it gets even better. The Kelly Kettle Ultimate Stainless Trekker Kit is an incredible addition to your outdoor adventures. Backpackers and hikers love the Trekker Kit for its light weight. The Trekker Kettle holds a little over two cups of water, enough to hydrate your dehydrated evening meal and extra for that desired cup of hot chocolate or coffee. Not only do you receive the Trekker Kelly Kettle, however, but the Kit also includes a small cook set, pot-support, two camp cups and plates, a small hobo stove and storage bag.
These are the company's newest spot welded models, with no pop rivets! Ideal for the backpacker, the Kelly Kettle Ultimate Stainless Trekker Kit works perfectly in stormy conditions so a good meal can be had whether rain or shine. Water is brought to a boil within a matter of minutes using whatever solid fuel (pine cones, birch bark, etc.) occurs in your natural surroundings. Completely eco-friendly, there are no running costs associated with the Kelly Kettle Ultimate Stainless Trekker Kit. With the addition of a pot-support and cook set, backpackers can now enjoy everything from noodles to rice to soup, and a whole lot more.
The unit is compact for transporting and storage, making the backpacking experience, even more, fun because there's no extra weight to spoil the stunning adventure. It's no surprise that so many have referred to the Kelly products as the "Greatest Inventions of All Time." The Kelly Kettle Ultimate Stainless Trekker Kit is exactly what it states: It is the "ultimate" product for backpackers that covers everything from hydration to nutrition needed in the Great Outdoors.
Talk about the perfect fit! As the famous saying goes: "Eat Well; Travel Often." For backpackers, having the Kelly Kettle Ultimate Stainless Trekker Kit allows them to do both with absolutely no worries!