Alpine Tunnel Trail Episode One
Alpine Tunnel Trail is an easy family hike of 6.3 miles out and back.
Trailhead is located at the ghost town of Hancock, Colorado. Trail to Alpine Tunnel has very little elevation gain, so its a great hike for the whole family. Gorgeous views, wildflower and great chance to see a moose in the meadow above the tunnel.
Alpine Tunnel Trail is also part of the Continental Divide Trail and Colorado Trail. At Alpine Tunnel the trail forks to the left up a steep incline to Tunnel Lake or on the down the trail a few hundred miles to Durango, Colorado. At this point I continued on past the tunnel and old camp of the railroad and tunnel worker up into the back of the valley.
On this day I ought to have brought ice skates, the trail was smooth as glass for about three fourths of a mile in places, making the hike quite interesting.
The Alpine Tunnel Station Complex was constructed here to support people heading east or west on the South Park system, which made the Complex the very heart of railroad operations. Near completion of the tunnel, the Denver, South Park and Pacific Railroads constructed two stone structures at the site. The craftsmen were Italian masons using the locally quarried hand-fitted granite to erect the massive engine house as well as the section house that came with a kitchen, dining room, pantry, and several bedrooms
,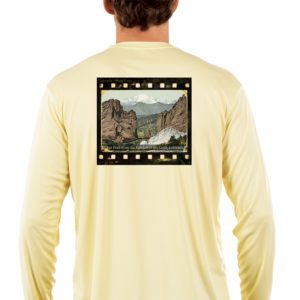 Colorado Living is Attitude,
Tough enough to climb 50 plus 14er's, backpack the 500 plus miles of the Colorado Trail or any other wilderness area, wading a river to gently placing a fly in front of a rising trout.
Outdoor and Fitness Performance Gear Enhancing your Outdoor Experience.
Colorado Native Wear™,
"Lifestyle Gear as Unique As You!"
Discover; http://bit.ly/2gefeTuColoradoNativeWear
Grab your Ski's, Fly Rod, Pack, it doesn't Matter.
Let's Go Explore!
Stop by Trail of Highways™
Discover Adventure; https://goo.gl/BYASZg
Happy Trails 😉
Colorado Native Wear™
All Rights Reserved
"Its Been a Most Excellent Adventure"
RoadTrek TV©
All Rights Reserved
Music: composed by Pat Surface – copyright Spiritwood Music' – http://www.SpiritwoodMusic.com
Tracks: Cabin Fever / End of the Road
We are Social Travel!
Protect our Public Lands, Wilderness, Monument Lands, from our Government and Commercial Interest!
Support Local Conservation Organizations!