Gem Lake Trail, Video Trail of Trail
Gem Lake is a 3.5 mile in and out hike.  Hike is moderate with a 1033 foot elevation gain.
Vista's, views, and rock formations of Lumpy Ridge make this a beautiful and fun hike.
Video trail of the trail here is a May hike,  though you can only imagine what a late September hike would be
like.  Gem Lake Trail is heavily lined with Aspen Groves.
We made this a loop hike taking the trail down past Twin Owls, which is a popular destination for climbers.
[wpgmza id="2″]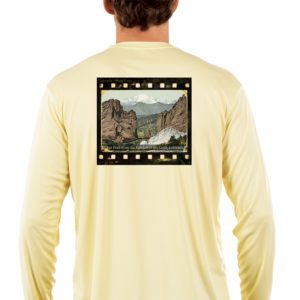 Colorado Living is Attitude,
Tough enough to climb 50 plus 14er's, backpack the 500 plus miles of the Colorado Trail or any other wilderness area, wading a river to gently placing a fly in front of a rising trout.
Outdoor and Fitness Performance Gear Enhancing your Outdoor Experience.
Colorado Native Wear™,
"Lifestyle Gear as Unique As You!"
Discover; http://bit.ly/2gefeTuColoradoNativeWear
Grab your Ski's, Fly Rod, Pack, it doesn't Matter.
Let's Go Explore!
Stop by Trail of Highways™
Discover Adventure; https://goo.gl/BYASZg
Happy Trails 😉
Colorado Native Wear™
All Rights Reserved
"Its Been a Most Excellent Adventure"
Learn More About Rocky Mountain National Park: Click Here
Learn More about the History of National Parks: Click Here
Great Fly Fishing Apparel and Outdoor Accessories
---
Hoodie Fly Fishing Apparel Took the One Rainbow Trout AD Maddox: Click Here
Tarpon Hookup SunPro Hoodie Saltwater Fly Fishing Apparel:

Click Here
Brook Trout All Sport Leggings: Click Here
Fishing Fishwater Neck Gaiter Outdoor Apparel: Click Here
Peacock Bass Fishing Apparel Gloves: Click Here
Brook Trout Backpack Dry-Bag: Click Here
National Forest Foundation Hammock: Click Here
ULTRALITE SL INSULATED V-Pad: Click Here
Canister Brook Trout Stoneware:

Click Here
Mugs Cutthroat Trout Stoneware: Click Here
 RoadTrek TV©
All Rights Reserved
Music: composed by Pat Surface – copyright Spiritwood Music' – http://www.SpiritwoodMusic.com
Tracks: Cabin Fever / End of the Road
We are Social Travel!