Description
BriteLyt 500CP XL Nickel Plated Brass Lantern
For years Britelyt has been dedicated to the most innovative and reliable high powered, liquid fuel lanterns and accessories.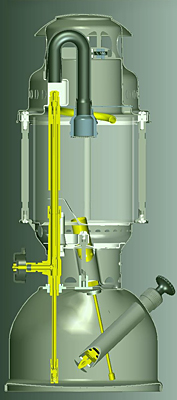 Now we're excited to share the biggest innovation in over 100 years for liquid fuel lantern technology, the new BriteLyt Rapid500CP and 150CP series, multi-fuel lanterns. We started from scratch to design the most functional and innovative lantern the market has ever seen.
Starting with our state-of-the-art CAD engineering approach we set out to design a lantern that fixed the current lantern issues within the marketplace. Thicker brass, heavier assembly and no need for soldered joints are just a few of the improvements we've made.
Perhaps the most unique feature is our ability to burn more than just Kerosene or Gasoline. With the ability to burn bio-fuels and other affordable and readily available fuels, BriteLyt has set itself apart from it's competition!
Premier Package Includes:
BriteLyt 500CP XL Matte Finish Brass Lantern
EZ-Pump
EZ-Cook
Heat Adapter with Shield
Mesh Chimney
Reflector / Shade
Carrying Case
Parts / Tool Kit
(12) Mantles
Fuel Funnel
Spirit Bottle
Instruction Manual
The BriteLyt 500CP XL Rapid, the new world standard! The new BriteLyt family of high powered lanterns represent the biggest innovation in over 100 years for liquid fueled lantern technology. We started from scratch to design the most durable, functional and innovative lantern the world has ever seen.
A perfect companion for your outdoor lifestyle needs. Constructed of a thicker, solid brass material, featuring a number of internationally patent pending improvements, the new BriteLyt lanterns are a great fit for camping, hunting, fishing boating or simply adorning your outdoor living space.
Giving off an industry leading 550 watts of light, the 500CP XL lantern also features the longest burn time in the industry, at up to 25 hours (depending on what fuel is being used.) You'll also find that our new lanterns can burn at much lower pressures than previous lanterns and have been engineered to solve many of the issues that currently plague other lanterns on the market. BriteLyt also features and exclusive, limited lifetime warranty against
defects providing you with piece of mind and making the BriteLyt 500CP XL a solid investment.
The new BriteLyt family of lanterns also breaks the old rule that high powered lanterns can only burn Kerosene. We spent much time perfecting our new lanterns to burn virtually any combustible liquid fuel you may have available.
All new BriteLyt XL lanterns come with: Viton rubber provides proven resistance to chemicals and extreme temperatures. It's the most specified rubber for fuel system seals and hoses, O-rings and gaskets. The performance of fluoroelastomers in aggressive chemicals depends on the nature of the base polymer and the compounding ingredients used for molding the final products (e.g. O-rings). This performance can vary significantly when end-users purchase Viton polymer containing rubber goods from different sources. Viton is generally compatible with hydrocarbons, but incompatible with ketones such as acetone, and organic acids such as acetic acid. O-rings made of Viton are typically color-coded as black, but new gaskets, seals and O-rings should be green FKM or black FKM, or FKM natural brown. Natural Viton is brown in color.  Over time, we are gradually shifting all of our Viton components over to natural brown.
Standard features also include stainless steel nozzle, 126s heat shield as well as dual O-Ring pump assembly, and EZ cook top.
Patent # D/476,219, D/476,209, and US0D0743617.
Lantern patent: 9,316,367