Grizzly Gulch Trail, Grizzly Lake Episode One
Grizzly Gulch Trail, Grizzly Lake Episode One video sequences one thru ten
Grizzly Gulch Trail, Grizzly Lake is located just south east of St. Elmo, Colorado, take the fork in the road to the left, just before entering the ghost town of St. Elmo, Colorado.  As you head towards of the ghost town of Hancock, Colorado about a half a mile on the left is a small parking area for the trail head, lot has P-sign on the right side of the area.
Ghost House was built by Thad Dick in 1886.  Thorndale family were the next occupants of the home.  Thorndale's were considered well to do by St. Elmo's standards, due to the fact they could afford luxuries such as dress trim, ribbons for their hair, and candy from the St. Elmo Mercantile.  Thorndale's had everything needed to live in a Colorado mountain mining community a root cellar, a well, wash house, outside privy and a stock corral. They used barrel staves to make skis to assist in the Thorndale children to get to school. It is believed the house got it's name for Allen Ghost who funded development of the region and assisted in the corporation of Hancock, Colorado.  Several years later Allen Ghost helped develop Denver's central business district. Ghost House is an interesting part of History hiking Grizzly Gulch Trail, Grizzly Lake.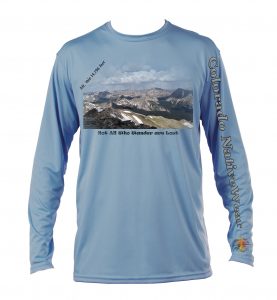 Colorado Living is Attitude,
Tough enough to climb 50 plus 14er's, backpack the 500 plus miles of the Colorado Trail or any other wilderness area, wading a river to gently placing a fly in front of a rising trout.
Outdoor and Fitness Performance Gear Enhancing your Outdoor Experience.
Colorado Native Wear™,
"Lifestyle Gear as Unique As You!"
Discover; http://bit.ly/2gefeTuColoradoNativeWear
Grab your Ski's, Fly Rod, Pack, it doesn't Matter.
Let's Go Explore!
Stop by Trail of Highways™
Discover Adventure; https://goo.gl/BYASZg
Happy Trails 😉
Colorado Native Wear™
All Rights Reserved
"Its Been a Most Excellent Adventure"
More about Buena Vista and the surrounding area: Click Here
As a company, as individuals and a group, we are strong supporters of public land and can't stress enough how everyone needs to get involved with a local conservation in your area and do all we can to save our "Wilderness Areas, Monuments, and other Public Lands".
Don't Let Our Government become very reckless with Nature and Our Public Lands!
Support Your Local Conservation Organizations!