Description
Scuba Jacks Patterned Leggings Fly Fishing Apparel Doubles as Great Hiking Clothes
Scuba Jacks Patterned Leggings shows a diver surrounded by a ball of Jack Crevalles.  Wearing on the trail as hiking clothes or even the slope as ski clothing, even  as wader liners, long underwear, workout leggings, or to get fishy for a night on the town.  These All Sport Printed Leggings feature 4-way stretch UV protective fabric (72% polyester 28% Spandex) for comfort and fit unmatched.  4″ waist band, interior pocket, flat-lock stitching.
Feel the rush of the school as it swims around you in an organized frenzy in search of food, not really noticing your presence as you enjoy organized chaos of the moment.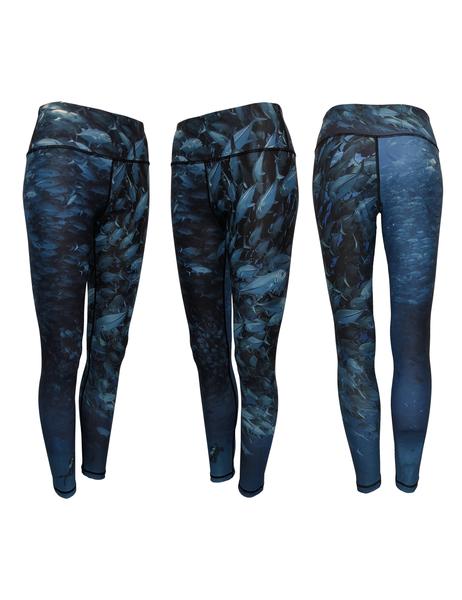 Printed leggings with a beautiful scuba diving scene great early morning beach wear for that run in cool breeze of dawn. You stop at your favorite coffee shop. Realizing how nice the hidden waist band pocket is for cash or a card.
More Great Printed Leggings Designs;  http://ow.ly/IT4W30nNaqr
Colorado hiking trails offer a diverse topography and environment. In this environment we field test our hiking clothes, fishing shirts and lots of fly fishing gear. Fly Tying Recipes can be found on pages within.