Hartenstein Lake Video Trail of Trail
Hartenstein Lake is a great summertime hike or winter snowshoeing adventure.
Hartenstein Lake is a moderate to difficult hike with an elevation gain of 1750 feet,
With stunning views, and several stream crossings.  One of the surrounding peaks
Is Turner peak standing at 13,232 feet.
Hartenstein Lake trail begins at the Denny Creek Trailhead, which is a major access point for the Collegiate Peaks Wilderness.  From Denny Creek Trailhead you can reach Mount Yale, Hartenstein Lake, Browns' Pass and Kroenke Lake.
To reach Denny Creek Trailhead and hike the 5.9 mile round trip hike to Hartenstein Lake and back, head west on out of Buena Vista about 12 miles on county road 306 towards Cottonwood
Pass.  
[wpgmza id="1″]
On the trail at 1.2 miles you come to the junction for Mount Yale, stay left for another .08 miles.
At this junction stay left to Hartenstein Lake, if you decide to go right this is Browns' Pass Trail,
Which will extend your hike to 10.2 miles out and back with awesome views of Texas Creek Valley and the headwaters of North Cottonwood Creek as well as several 14er's.
Take your time and enjoy this hike, Hartenstein Lake is a great weekend get away with a backpack and fly rod.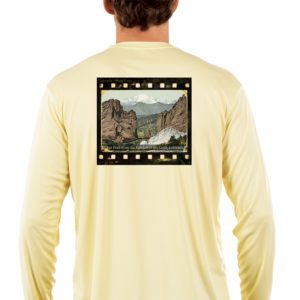 Colorado Living is Attitude,
Tough enough to climb 50 plus 14er's, backpack the 500 plus miles of the Colorado Trail or any other wilderness area, wading a river to gently placing a fly in front of a rising trout.
Outdoor and Fitness Performance Gear Enhancing your Outdoor Experience.
Colorado Native Wear™,
"Lifestyle Gear as Unique As You!"
Discover; http://bit.ly/2gefeTuColoradoNativeWear
Grab your Ski's, Fly Rod, Pack, it doesn't Matter.
Let's Go Explore!
Stop by Trail of Highways™
Discover Adventure; https://goo.gl/BYASZg
Happy Trails 😉
Colorado Native Wear™
All Rights Reserved
"Its Been a Most Excellent Adventure"
 RoadTrek TV©
All Rights Reserved
Music by; Charles Martinez [ Native American Flute Music]
Order your CD; http://www.chimneyrockco.org/index.htm
Chimney Rock Wildflower Email:
chimneyrock@chimneyrockco.org
Administrative Director:
Danyelle Leentjes
Email: admdir@chimneyrockco.org
Telephone:
(970)883-5359 Visitor Cabin In-season
(970)731-7133 Leave Message Off-season
Mailing Address:
Chimney Rock Interpretive Program
P.O. Box 1662
Pagosa Springs, CO 81147