Mount Yale, a Video Trail of the Trail
Mount Yale is as beautiful as it is hard to hike.  As steps past the scenery rolls up the mountain in a broad expanses of mountain ranges and valley floors as far as sight allows.   After the steep climb of switch back above tree line you reach a saddle before the false peak and peak.  The vista's from this vantage point are very inspiring.  From here you scramble up over granite boulders and small bits of a narrow trail to the summit.   This is my third 14er, Mount Yale vista's so far are hard to beat.
Did the hike to the summit on the last weekend of June, weather was really quite perfect, other than a little lightning around noon.  Lightning is one of nature's wonders you need to be completely aware of at all times.
In this group of sequence's you travel the first mile and half or so.  On this hike you start out climbing from the trailhead.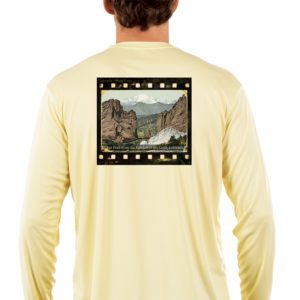 Colorado Living is Attitude,
Tough enough to climb 50 plus 14er's, backpack the 500 plus miles of the Colorado Trail or any other wilderness area, wading a river to gently placing a fly in front of a rising trout.
Outdoor and Fitness Performance Gear Enhancing your Outdoor Experience.
Colorado Native Wear™,
"Lifestyle Gear as Unique As You!"
Discover; http://bit.ly/2gefeTuColoradoNativeWear
Grab your Ski's, Fly Rod, Pack, it doesn't Matter.
Let's Go Explore!
Stop by Trail of Highways™
Discover Adventure; https://goo.gl/BYASZg
Happy Trails 😉
Colorado Native Wear™
All Rights Reserved
"Its Been a Most Excellent Adventure"
 RoadTrek TV©
All Rights Reserved
Music by; Charles Martinez [ Native American Flute Music]
Order your CD; http://www.chimneyrockco.org/index.htm
Chimney Rock Wildflower Email:
chimneyrock@chimneyrockco.org
Administrative Director:
Danyelle Leentjes
Email: admdir@chimneyrockco.org
Telephone:
(970)883-5359 Visitor Cabin In-season
(970)731-7133 Leave Message Off-season
Mailing Address:
Chimney Rock Interpretive Program
P.O. Box 1662
Pagosa Springs, CO 81147