Quandary Peak, Video Trail of the Trail
Quandary Peak is just up the pass from Breckenridge, Colorado.  One item to understand about hiking 14er's is that they are straight up and not easy.  Have protein bars and lots of water.  I took a gallon with me on this trip and gave over a half a gallon away to folks who didn't bring enough water with them, 12oz of water is not enough people.   I was very parched by the time I got down.  I ran into a search and rescue person on the trail on my way down. He was on his way up to rescue someone who didn't have a enough water or food and bonked out.  As he stated the Darwin effect, how nature weeds out the population that doesn't think be for taking action. Hiking is serious outdoor activity, so please take it that way.
Now back to the trail.  I give this hike a 5 star rating.  The views are breath taking and the hike is a great work out.   Once at the peak, sat and eat a sandwich, while taking in the view before heading back down.  The hike down in some ways was more beautiful than going up.   If you have never done a 14er before, I recommend this one as a great place to start.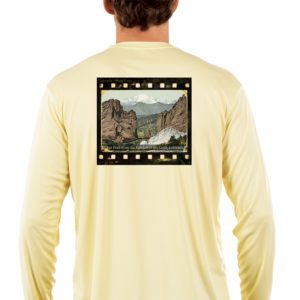 Colorado Living is Attitude,
Tough enough to climb 50 plus 14er's, backpack the 500 plus miles of the Colorado Trail or any other wilderness area, wading a river to gently placing a fly in front of a rising trout.
Outdoor and Fitness Performance Gear Enhancing your Outdoor Experience.
Colorado Native Wear™,
"Lifestyle Gear as Unique As You!"
Discover; http://bit.ly/2gefeTuColoradoNativeWear
Grab your Ski's, Fly Rod, Pack, it doesn't Matter.
Let's Go Explore!
Stop by Trail of Highways™
Discover Adventure; https://goo.gl/BYASZg
Happy Trails 😉
Colorado Native Wear™
All Rights Reserved
"Its Been a Most Excellent Adventure"
 RoadTrek TV©
All Rights Reserved
Music by; Charles Martinez [ Native American Flute Music]
Order your CD; http://www.chimneyrockco.org/index.htm
Chimney Rock Wildflower Email:
chimneyrock@chimneyrockco.org
Administrative Director:
Danyelle Leentjes
Email: admdir@chimneyrockco.org
Telephone:
(970)883-5359 Visitor Cabin In-season
(970)731-7133 Leave Message Off-season
Mailing Address:
Chimney Rock Interpretive Program
P.O. Box 1662
Pagosa Springs, CO 81147