Description
Rainbow Trout Fishing Gloves are great Outdoor Apparel Camping Hiking Clothes
Fly Fishing Gloves hiking clothes provide extreme sun protection as well as creating trail dust as hiking clothes with ability to operate camera and more on a frosty morning.  Great on the trail, river, mountain biking, backpacking adventures or just a Sunday Drive.  Or just relive that day on the river casting to a pod of picky Rainbow taking Tricos. We use a Rainbow trout skin print by A.D. Maddox on these cooling wicking poly-Spandex Sun Gloves.  The tough 55% nylon, 45% polyurethane microfiber palms are perfect for fishermen, rowers, bikers, and anyone who wants to show off their general fishy-ness. Two sizes available.
Great accessory for fishing clothes, hiking clothes and sun protection.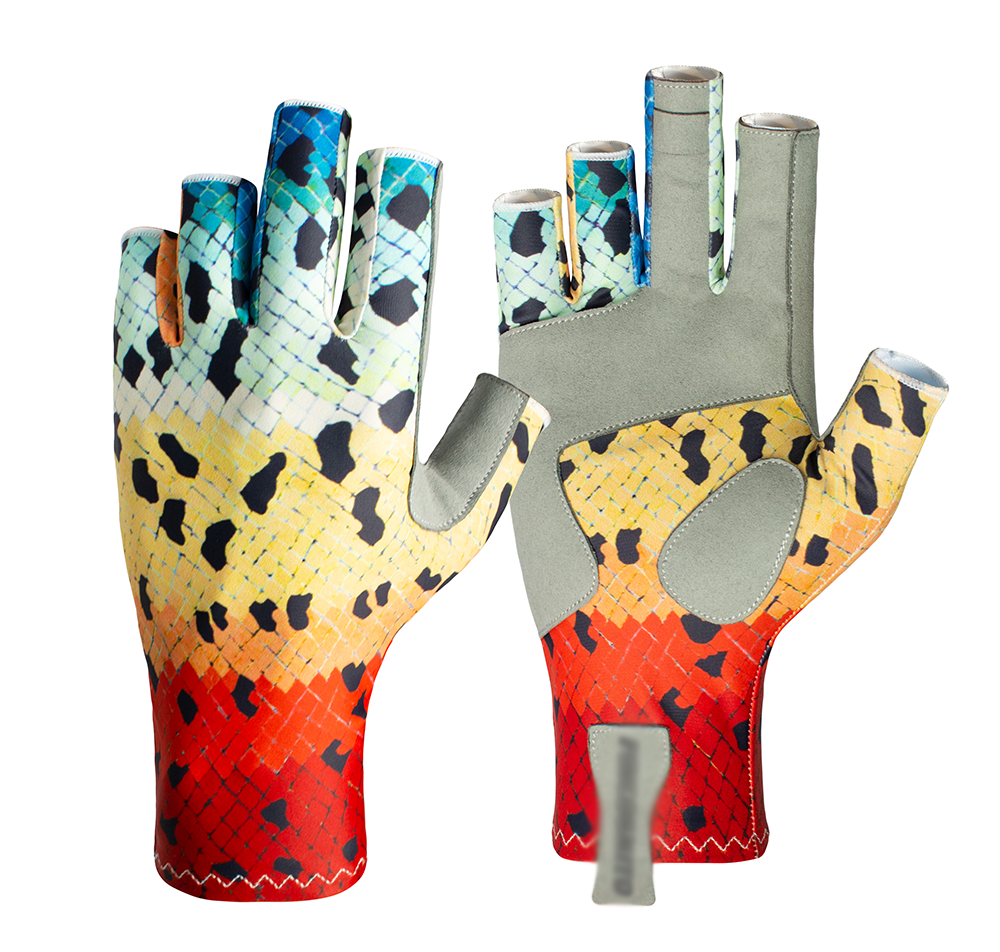 Rainbow Trout Fishing Glove save the hands on those long days at the oars.  Feathering all day makes the hands sore, but a great work out.  If the fishing has been good all the better, but it's really more about the people you meet and life long connections.  River days are the fondest memories, drifting in the sun watching birds and rising trout with drifting flies looking for a seam to drift upon.  Was the cast true was the line a moving target of timing with the fly. Our team has field test the Fishing Gloves with over a 1000 days on the river, trail and 10's of thousands of miles driving while wear.  Great protection comfort and fit make for great days on outdoor adventures. That loving life feeling we get while wearing our gear.
More Great Glove Designs; Click Here
Colorado hiking trails offer a diverse topography and environment. In this environment we field test our hiking clothes, fishing shirts and lots of fly fishing gear. Fly Tying Recipes can be found on pages within.