Hike to Fern Lake, Rocky Mountain National Park, Episode Three
Looking for a bit more strenuous hike, allowing to set your eyes on even more brilliant scenic lakes surrounded by Fall aspens and wildflowers galore, the Fern Lake Trail is a must.  Fern Lake Trailhead is at the back of Moraine Park and the being of Thompson River Canyon.  First one point seven miles is fairly flat and easy as you hike along Big Thompson River.  At this point your reach The Pool and the junction to do a loop hike up and over to Cub Lake and back to Fern Lake Trailhead.   Fern Lake Trail stays to the right with a steep climb heading up to Fern Falls.  The seven tenths of a mile hike you gain an elevation of four hundred feet to the falls. 
As you are hiking up to Fern Falls you will pass the two primitive campsites and and a side trail that offers great views into the Thompson River Canyon.   The next mile past Fern Falls you gain six hundred and fifty feet in elevation.  At three miles and seven tenths you reach Spruce Lake Trail.  Another one-tenth of a mile you arrive at Fern Lake.  Incredible setting with the trail continuing to other park destinations in Rocky Mountain National Park.
,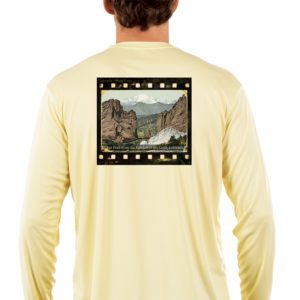 Colorado Living is Attitude,
Tough enough to climb 50 plus 14er's, backpack the 500 plus miles of the Colorado Trail or any other wilderness area, wading a river to gently placing a fly in front of a rising trout.
Outdoor and Fitness Performance Gear Enhancing your Outdoor Experience.
Colorado Native Wear™,
"Lifestyle Gear as Unique As You!"
Discover; http://bit.ly/2gefeTuColoradoNativeWear
Grab your Ski's, Fly Rod, Pack, it doesn't Matter.
Let's Go Explore!
Stop by Trail of Highways™
Discover Adventure; https://goo.gl/BYASZg
Happy Trails 😉
Colorado Native Wear™
All Rights Reserved
"Its Been a Most Excellent Adventure"
Learn More About Rocky Mountain National Park: Click Here
Learn More about the History of National Parks: Click Here
Great Fly Fishing Apparel and Outdoor Accessories / Apparel
---
Hoodie Fly Fishing Apparel Took the One Rainbow Trout AD Maddox: Click Here
Tarpon Hookup SunPro Hoodie Saltwater Fly Fishing Apparel:

Click Here
Brook Trout All Sport Leggings: Click Here
Fishing Fishwater Neck Gaiter Outdoor Apparel: Click Here
Peacock Bass Fishing Apparel Gloves: Click Here
Brook Trout Backpack Dry-Bag: Click Here
National Forest Foundation Hammock: Click Here
ULTRALITE SL INSULATED V-Pad: Click Here
Canister Brook Trout Stoneware:

Click Here
Mugs Cutthroat Trout Stoneware: Click Here
 RoadTrek TV©
All Rights Reserved
Music: composed by Pat Surface – copyright Spiritwood Music' – http://www.SpiritwoodMusic.com
Tracks: Cabin Fever / End of the Road
We are Social Travel!
Protect our Public Lands, Wilderness, Monument Lands, from our Government and Commercial Interest! 
Support Local Conservation Organizations!