Ripe Bistro & Social Lounge
The Ripe Bistro & Social Lounge is a small local gathering place of high class, supporting local famers.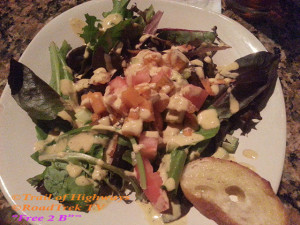 The other evening at around 8:30 we were driving around St Augustine observing the Christmas lights and celebrations.  We found ourselves out on Anastasia Island, the A1A split and  hungry.  We pulled into a strip mall with a publix's and a Mexican place to eat.   As we start reading the signs around the Lot we noticed a sign stating the Ripe Bistro.And being hungry the local and fresh exploded from the sign saying come in.  Upon entering noticed right away a great craft beer and wine selection.  Also hearing piano music drifting through from the back we notice a piano lounge through another arch way.   The place is moderately busy and we get a table and are greeted by our prompt and cheerful waitress Jenny.  Jenny gives us the run down on specials and the different beers and wines.   I order a local brew and start looking over the menu.
We both order the local Sausage Crepe and were very pleasantly surprised by the salads presentation and flavor.   The fresh vegies and the house dressing are wonderful.    As we completed our salads our crepe arrived.  It as well,  both presentation and taste sensations that aroused the soul.
If you are in St Augustine, Florida and desire something a little different and local visit the Ripe Bistro & Social Lounge.
RoadTrek TV©
"Every Moment is a Destination"