Description
CCS Camera Harness-1
The CCS Camera Harness System for one camera is designed for the active photographer. The harness supports and secures one camera with a long lens, keeping it always at the ready. The ergonomic design of this camera vest carrier distributes the weight of the camera helping to lessen the fatigue of a long shooting day.
Comes complete with a comfortable and durable, one-size-fits-all adjustable Camera Harness made of 1680 denier polypropylene material fitted with a super strong Lexan twist & lock camera mount. The C&C machined anodized aluminum components include our patented Universal Tripod Adapter which allows for direct mounting to a tripod.
This system keeps your hands free, your equipment safe, and your body mobile. Ready to shoot. Right now!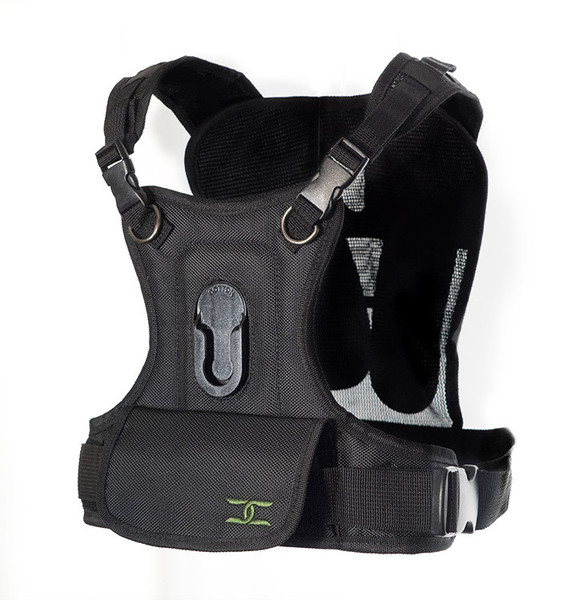 Cotton Camera Carrying Systems involve moving parts that must be maintained periodically.
INSTALL THE CAMERA HUB – use the included tightening tool (Allen Key), tighten the Camera Hub as TIGHTLY AS POSSIBLE. Adequate tightening causes compression of the rubber washer, this is what keeps your camera securely attached to the Lexan Camera Mount. Check it until you are satisfied it is not loosening through the turning action of the camera.
Frequently check the condition of both the Hub and Camera Mount for any signs of wear or damage. Be sure to keep both the Lexan Camera Mount and Camera Hub clean and free of any grit and debris, and clean regularly as you would with any camera component.
CCS Camera Harness-1 system includes:
– Camera harness
– Universal tripod adapter plate
– Hand strap with rubber mounting plate
– Rain cover
– Anodized aluminum camera hub and rubber washer
– Camera-hub mounting bolt
– Camera tether strap
– Allen key
– Tether split-ring
– Lifetime guarantee to the original owner.
Protect yourself from the elements
Our UPDATED DESIGN now includes a sleeve to hold an umbrella – for example a 45″ photographic umbrella with a thin shaft (available in many camera shops) works well. We've also added a larger front pouch, and now include a camera rain cover.
Patented Twist & Lock Mount
Our patented Twist&Lock Camera Mount System is stable and secure. One twist locks your camera in place, making it difficult for a thief to grab and go. It also stabilizes the camera so you are free to move vigorously without a camera banging around on your body.