Be a Culinary Tourist on a West Palm Beach Food Tour
What's a West Palm Beach food tour?  Glad you asked.   
Imagine a walking tour of beautiful Downtown West Palm Beach complete with history, architecture and culture.  Now add 12 generous tastings of the best local dishes, and you've got a food tour.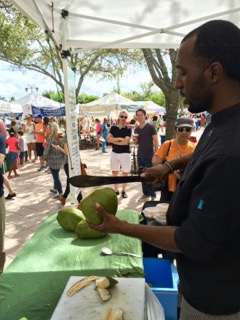 Food tours are not about fine-dining; they're about tasting fresh, local foods.  Those foods may come from a gourmet restaurant, but they may also come from the local Greenmarket, an ethnic eatery or a food truck.
If you were visiting Chicago, you'd probably make it a point to try their Deep Dish Pizza.  If you were vacationing in Philadelphia, finding the best Cheesesteak may be on your to-do list.  This is culinary tourism, and a food tour is your chance to eat, explore and experience a city, one delicious bite at a time.
10 Reasons to Take a West Palm Beach Food Tour
Explore the city with 12 delicious tastings from 6 local restaurants…expect great food and a great time.
Feel like a local after just 3 hours. You'll get off the beaten path and discover restaurants only the locals know about.
Experience a unique culinary and sightseeing adventure on The Downtown West Palm Beach Food Tour where food tells the story of our people, our culture and our lifestyle.
Learn how to open a coconut and taste fresh tropical tamarind juice.
Meet local chefs and restaurant owners and hear their stories.
Become an "explorer of food" and try ethnic dishes like a Brazilian Coxinha or Pao de Queijo.
Be trendy! Culinary tours are one of the hottest trends in travel.
Finish the tour with a long list of restaurants to try and things do in West Palm Beach. Note to self:  take this tour on the first day of vacation.
Go home pleasantly full and with tasty memories of your visit to West Palm Beach.
Count yourself among the millions of culinary tourists around the world.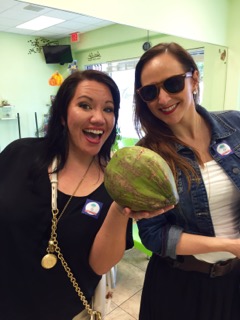 "Food connects a traveler to a place in a way that's arguably closer and more engaging than anything else they could encounter. Confining a food tourist's dining experience to the walls of a restaurant isn't enough to make them feel like they got what they came for."  –Dan Peltier, Skift Report
When you're planning your next vacation, add a food tour to your itinerary.
Of course, if you're visiting South Florida, I'll have a piece of Key Lime Pie waiting for you on our Downtown West Palm Beach Food Tour.
Written by:  Kristl Story, owner, WestPalmBeachFoodTour.com