Best Hiking Clothes for Every Outdoor Trek
"Leaving the trailhead at seven am, the brilliant sun was just cresting over the lofty mountain peaks. As we passed the junction of Browns Creek Falls on our way to the lake, however, that memorable sky offered us a new look that included thick, black clouds that were, most assuredly, rolling in. We reached Browns Lake after another three-and-a-half miles, just as the snow began and the gale force winds began to howl, causing a true white out all around.
A Brief Moment of Second Thoughts
No not really, I am always prepared for what the weather has to offer. After brief moments of sun and darkness descending quickly, (30 minutes or so) making the decision to turn and descend the mountain, as we walked along the snow turned into hail before transforming into a hard, driving rain. I briefly thought about digging my rain jacket out of my pack, but then the idea hit me that one of my missions was to assess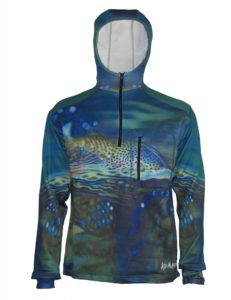 a brand new fabric that was supposedly "built" just for moments like this. Putting on the Not Over Yet 1/4 -Zip Adventure Hoodie, I began my test against Mother Nature's most unforgiving elements. Unbelievably, it took thirty minutes before I could even begin to feel the moisture coming through. I left the hoodie on and continued another three miles down the trailhead; even though I finally got wet, I never got cold. When we reached our vehicle, I left the wet hoodie on, cranked the heat, and headed to my home over ninety miles away. Upon arrival, believe it or not, the hoodie was almost completely dry. I was so impressed by the material, I wanted to make sure to add this by essential backpacking gear.
We now offer a complete line of great Hydrophobic Adventure Hoodies, so make sure you get yours today!
Be Like the Last Boy Scout, Be Prepared
Enjoying all that Outdoor Adventures have to offer.  It is best to be prepared with suitable hiking clothes, a personal beacon, and extra water and food. An extra base layer or outer layer depending on the season. It could save your life someday or someone else's.
For great hiking information and hiking clothes or learning to tie flies, it's all within the pages…
Video Road Trip Buena Vista EP 2