Video Road Trip Buena Vista to Crested Butte Episode Two
Our Journey begins in downtown Buena Vista, Colorado.  Headed down main street across US 24 on to Co 360, up over Cottonwood pass, down to Taylor Reservoir.  From Taylor Reservoir we flow Taylor Creek down to the town of Almont, Colorado taking a right on Co 135 to Crested Butte.
Both up Cottonwood Pass and all the way down to Almont offer great primitive camping as well as Forest Service Campgrounds all along the way.  I will say the Forest Service Campgrounds on the Taylor Reservoir side are by far better maintained, if needing a restroom use a shovel and forest, a lot cleaner.
Taylor Creek is a very good brown trout fishery, is my understand.  Lots of pull outs and paved parking areas to fish from for the day.  Lower Taylor Creek offers some great rafting and plenty of companies to choose from if you don't own your own raft.  From Almont and all around Crested Butte are many choices on how to spend the day with rod in hand.  Its also a mountain bikers and hikers paradise.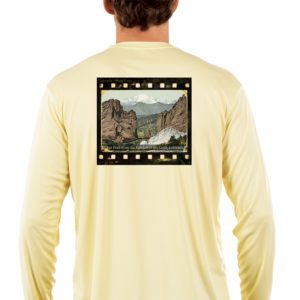 Colorado Living is Attitude,
Tough enough to climb 50 plus 14er's, backpack the 500 plus miles of the Colorado Trail or any other wilderness area, wading a river to gently placing a fly in front of a rising trout.
Outdoor and Fitness Performance Gear Enhancing your Outdoor Experience.
Colorado Native Wear™,
"Lifestyle Gear as Unique As You!"
Discover; http://bit.ly/2gefeTuColoradoNativeWear
Grab your Ski's, Fly Rod, Pack, it doesn't Matter.
Let's Go Explore!
Stop by Trail of Highways™
Discover Adventure; https://goo.gl/BYASZg
Happy Trails 😉
Colorado Native Wear™
All Rights Reserved
"Its Been a Most Excellent Adventure"
 RoadTrek TV©
All Rights Reserved
Music: composed by Pat Surface – copyright Spiritwood Music' – http://www.SpiritwoodMusic.com
Tracks: Cabin Fever / End of the Road
We are Social Travel!