The Times
As it approach 11 PM the bewitching hour for me these days.  Everyone gathered their things and headed down the stairs to head home, some ask have you ever had or even heard of a Irish Car Bomb.  With a reply of not partaking of either, heard or tasted, we were all on our way to the Time.  As we past through the door on to the sidewalk, taking a left down half a block and another left.  Standing in the The Times, I stopped and took a look, a very cool old building.
By the time I got to the bar, the bar maid had them already prepared and ready to blow.  As I wrapped my hand around a glass, I was instructed to drink as fast as I can, or the Irish Creme will curdle.  The Detonator was released and I chugged.  The drink is both delicious and dangerous.  My chugging days aren't what they use to be, it took couple to get the whole 13 oz's down.
To create a Irish Car Bomb you will need a 16 oz glass with 12 oz of Guinness Stout put into a glass.  Next you will need a shot glass filled ⅔ with Irish Whiskey and topped of with Irish Creme.
Now take the shot (Detonator) and drop into the Guinness Stout and Drink.
Next time you are passing through Butte,Montana visit The Times in Uptown Butte and have one.  They are very good and will sneak up on you, so please drink Responsibly.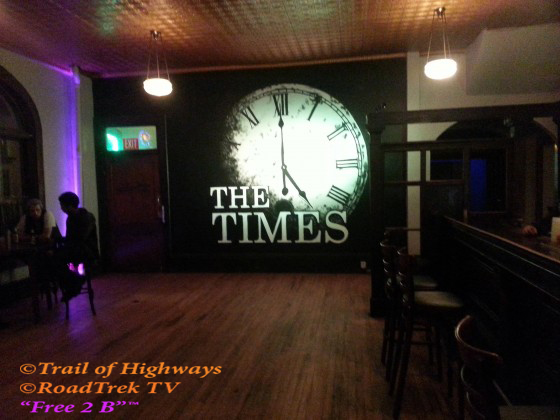 RoadTrek TV©
"Every Moment is a Destination"