Trail of Highways™ Bonfire Coffee, Carbondale Colorado
Carbondale, Colorado sits just 10 miles south of Glenwood Springs on Highway 133.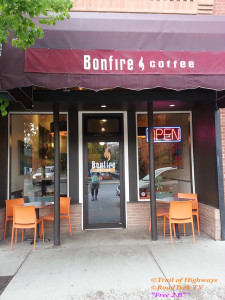 Bonfire Coffee is on Main Street, of this beautiful hamlet at the base of Mount Sopris.
We set up in the back to work for the day.  We were pleasantly surprised by the old elevator and big belt pulleys on the ceiling. The building is a old mercantile converted to a awesome coffee shop with great food.
They roast their own coffee. My favorite is the Garage Blend.  The wifi is strong and the staff is great.  In your travels we highly recommend stopping at the Bonfire Coffee to check mail or just chill out.  There is also some very interest art on the walls.
Happy Trails.