Description
Late for Dinner
This Gar is in a hurry to get to dinner!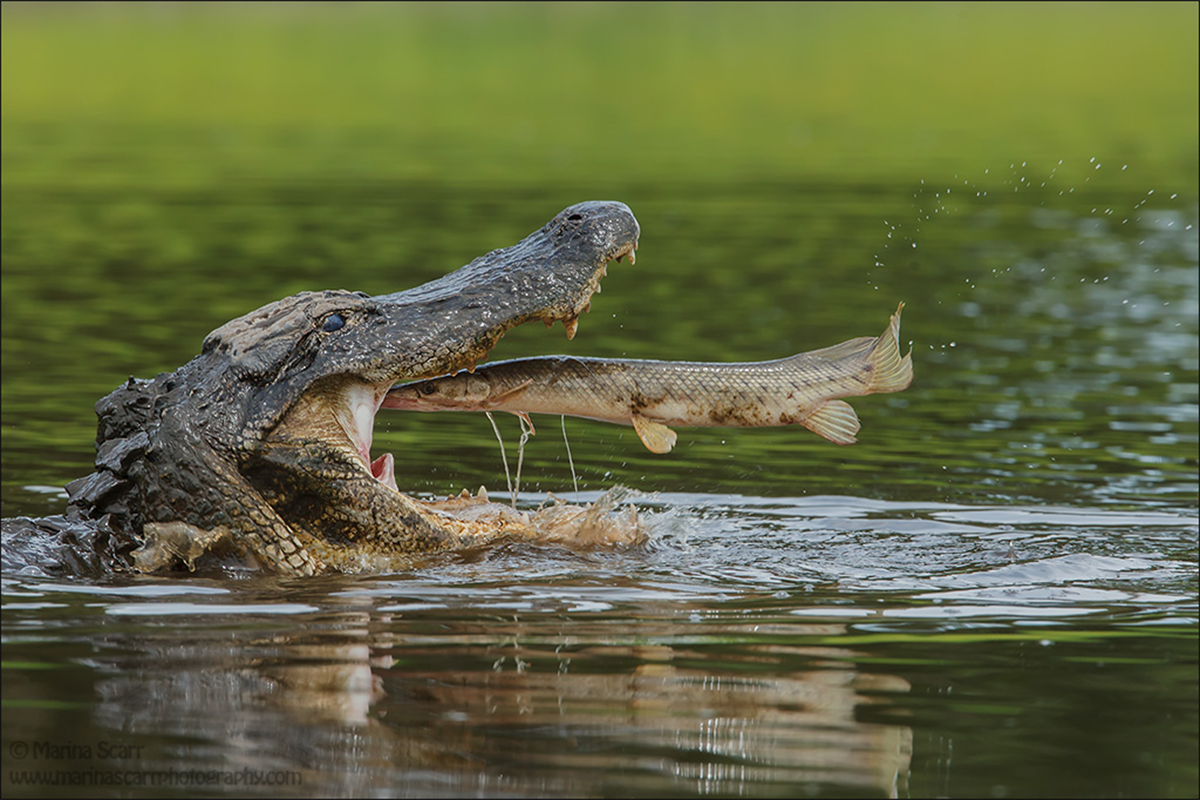 signed Image is printed on 16×24 metal, bringing a room alive with action and color.
Marina Scarr is an award-winning nature photographer and certified Master Naturalist based in Sarasota, Florida.  Her fascination and passion for birds was spawned when she witnessed an incubator full of duck eggs hatch in her second-grade science class.  Her introduction to photography came when her father gave her a camera at 18.  After enrolling in several classes, her love of nature photography was born and her two passions fused.  Avian and wildlife subjects are her primary focus.
Marina has won several awards and her images have been published in National Wildlife, Nature's Best, Living Bird, Popular Photography,  etc.  Her images are being used on various websites, Apps and brochures.
Alligator Gar are the only extant family of Gar, Lepisosteidae have seven species located in Central and North America.
Lepisosteiformes are a ray finned fish of the acient Hoosteian order from around the Jurassic period, Late in the Jurassic period the showed up and are still around now, a prehistoric fish.
American Alligators are at times referred to as gators. American Alligators Scientific name is "Alligator Mississippiensis with a life span of up to sixty year and males reaching 500 pounds in weight.
American Alligator's habitat range is found on the Atlantic Coast of Coastal North Carolina down and around Florida on the Gulf Coast reach down along Texas.
American Alligator's are sexually active year round, with the warmer months being the most active and females laying between twenty to thirty eggs. As mating season begins males bellow to alert females in the area and other males as well. As the eggs hatch females carry the newborns from the nest to water.
Late for Dinner Alligator Fishing Gar Fish perfect for the wildlife enthusiast in our Life.