Wild Basin Trail, Ouzel Falls, Video Trail of Trail
FallsWild Basin Trail, Rocky Mountain National Park
Ouzel Falls is a 5.4 mile hike in and out, on Wild Basin Trail.  
Wild Basin Trail to Ouzel Falls is a moderate hike, five hours plus with great stops along the way such as Copeland Falls, just under a mile down the trail.  Next awesome stop is Calypso Cascades, a great place to get stunning photos of tumbling water over rock and log.  At Calypso Cascades you are about 1.8 miles in on Wild Basin Trail.  Only another .9 of a mile till you reach Ouzel Falls.
Ouzel Falls is a great place to photograph water ouzels or just sit back and enjoy.
Wild Basin Trail is on the low side of Moderate, with only a 900 foot elevation gain, but this not the place for baby strollers, very rocky and with rock steps on the trail.
Be concise of others on the trail. Dogs are prohibited.
To reach the trailhead from Estes Park, drive south on Colorado 7 a bit farther than 11 miles and turn right on very well marked road, with sign to Wild Basin. There is a narrow unpaved section that is 2.3 miles as you arrive at the trailhead for Wild Basin.
In this group of sequences you will stop at Copeland Falls with Calypso Cascades in the next group.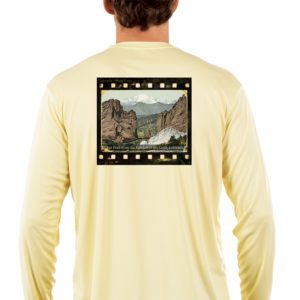 Colorado Living is Attitude,
Tough enough to climb 50 plus 14er's, backpack the 500 plus miles of the Colorado Trail or any other wilderness area, wading a river to gently placing a fly in front of a rising trout.
Outdoor and Fitness Performance Gear Enhancing your Outdoor Experience.
Colorado Native Wear™,
"Lifestyle Gear as Unique As You!"
Discover; http://bit.ly/2gefeTuColoradoNativeWear
Grab your Ski's, Fly Rod, Pack, it doesn't Matter.
Let's Go Explore!
Stop by Trail of Highways™
Discover Adventure; https://goo.gl/BYASZg
Happy Trails 😉
Colorado Native Wear™
All Rights Reserved
"Its Been a Most Excellent Adventure"


RoadTrek TV©
All Rights Reserved
Music by; Charles Martinez [ Native American Flute Music]
Order your CD; http://www.chimneyrockco.org/index.htm
Chimney Rock Wildflower Email:
chimneyrock@chimneyrockco.org
Administrative Director:
Danyelle Leentjes
Email: admdir@chimneyrockco.org
Telephone:
(970)883-5359 Visitor Cabin In-season
(970)731-7133 Leave Message Off-season
Mailing Address:
Chimney Rock Interpretive Program
P.O. Box 1662
Pagosa Springs, CO 81147