Colorado River Trail, Hike Lulu City  Video Trail of Trail
Hike to Lulu City follows the Colorado River for three miles and seven tenths of a mile.  I consider the hike easy with around a three hundred and fifty feet elevation gain.   Hike to Lulu City is a west side of the park hike, seven and four tenths of mile in and out hike, making for a good day hike.
Lulu City was abandoned in the 1880's around ten years from its founding, due to a lack of minerals.  There are no buildings left standing at the site of Lulu City.  I did notice quite a few brook trout in the river through out the meadow.
Pryor to the mining era, was the Rocky Mountain fur trade, with legendary tales of mountain men roaming the mountains trapping beaver and wrestling grizzly bears.
Hike nine tenths of a mile up the trail to a junction offering adventure choices up Skeleton Gulch Trail, Thunder Pass or the Little Yellowstone Trail.  You can turn the hike in to nine and four tenths a mile semi-loop hike, adventure awaits.
On the trail in the first couple of miles are the junction for the Red Mountain Trail crossing the Colorado River.  Make for a great photo opt.   Down the trail further is Shipler Mine site, beyond here are the Shipler cabins semi standing.   Hike offers great history, wildlife.  Many Moose, Elk and Trout have been spotted.
,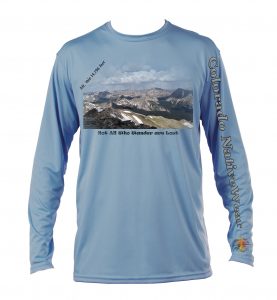 Colorado Living is Attitude,
Tough enough to climb 50 plus 14er's, backpack the 500 plus miles of the Colorado Trail or any other wilderness area, wading a river to gently placing a fly in front of a rising trout.
Outdoor and Fitness Performance Gear Enhancing your Outdoor Experience.
Colorado Native Wear™,
"Lifestyle Gear as Unique As You!"
Discover; http://bit.ly/2gefeTuColoradoNativeWear
Grab your Ski's, Fly Rod, Pack, it doesn't Matter.
Let's Go Explore!
Stop by Trail of Highways™
Discover Adventure; https://goo.gl/BYASZg
Happy Trails 😉
Colorado Native Wear™
All Rights Reserved
"Its Been a Most Excellent Adventure"
History of Rocky Mountain National Park: Click Here
Colorado River Trail, Hike Lulu City  Video Trail of Trail Episode three: Click Here
 RoadTrek TV©
All Rights Reserved
We are Social Travel!
Protect our Public Lands, Wilderness, Monument Lands, from our Government and Commercial Interest! 
Support Local Conservation Organizations!