Dry Line Fishing Down Stream for Steelhead
Fishing Structure down stream can have lots of advantages for reaching structure at the spot where Stealhead are waiting for a meal. Dry Line Steelhead is a cast of strategy. We will talk line, clothing, leader and flies as we go along here.  Most Steelhead adventures I have experienced have been quite cool to down right cold and wet.
Steelhead Flies:
Tied Spey Style Green Butt Skunk
Low water of early winter or even very early spring depending on where you fish, this is a great fly. For this spey fly I am using Diiachi 2052 Alec Jackon Spey Hook, Silver. Thread is 6/0 Uni red instead of black.  Tag is Chartreuse floss coat with Loon's UV clear fly finish. Rib is created with fine silver oval.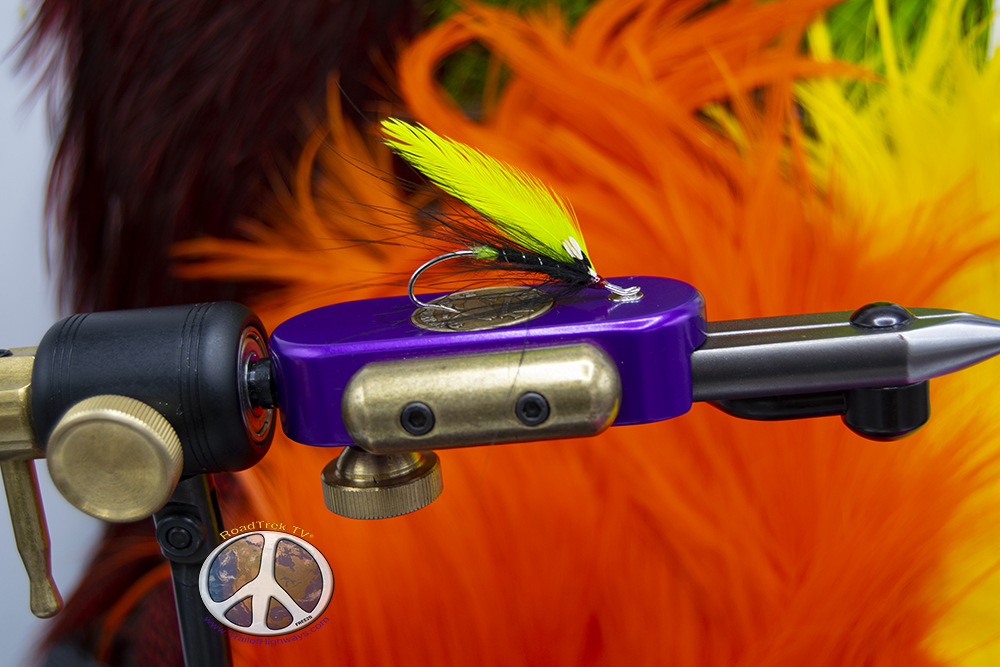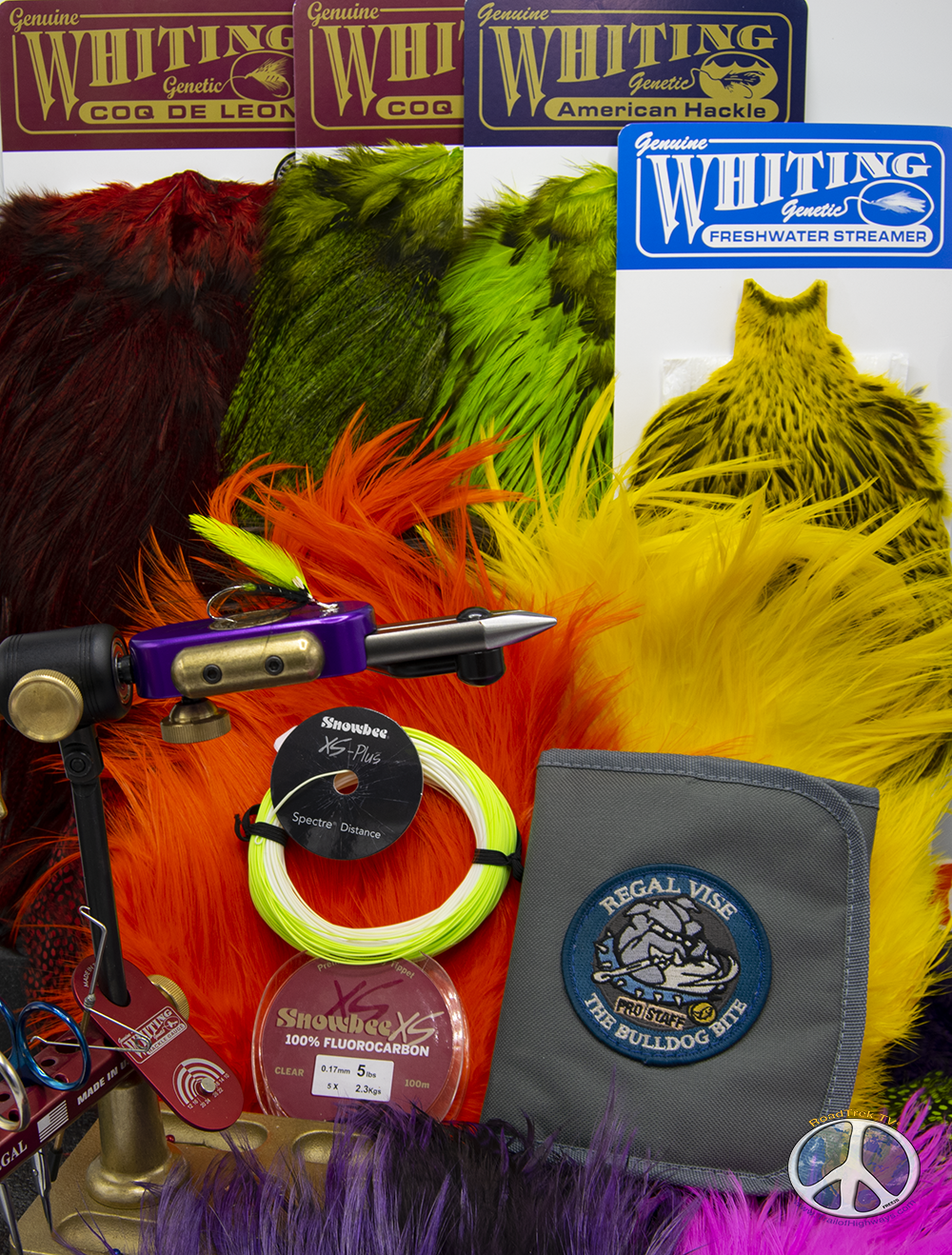 Late for the Station
Not perfect but it felt good to tie.  Based on a Freight Train, for the tags I didn't have any orange floss so I substituted yellow.  Red Floss for the next color.  But not to get to far ahead of myself, the tail is Gray Squirrel dyed Purple.  Fine silver oval tinsel for ribbing to be wrapped to the head.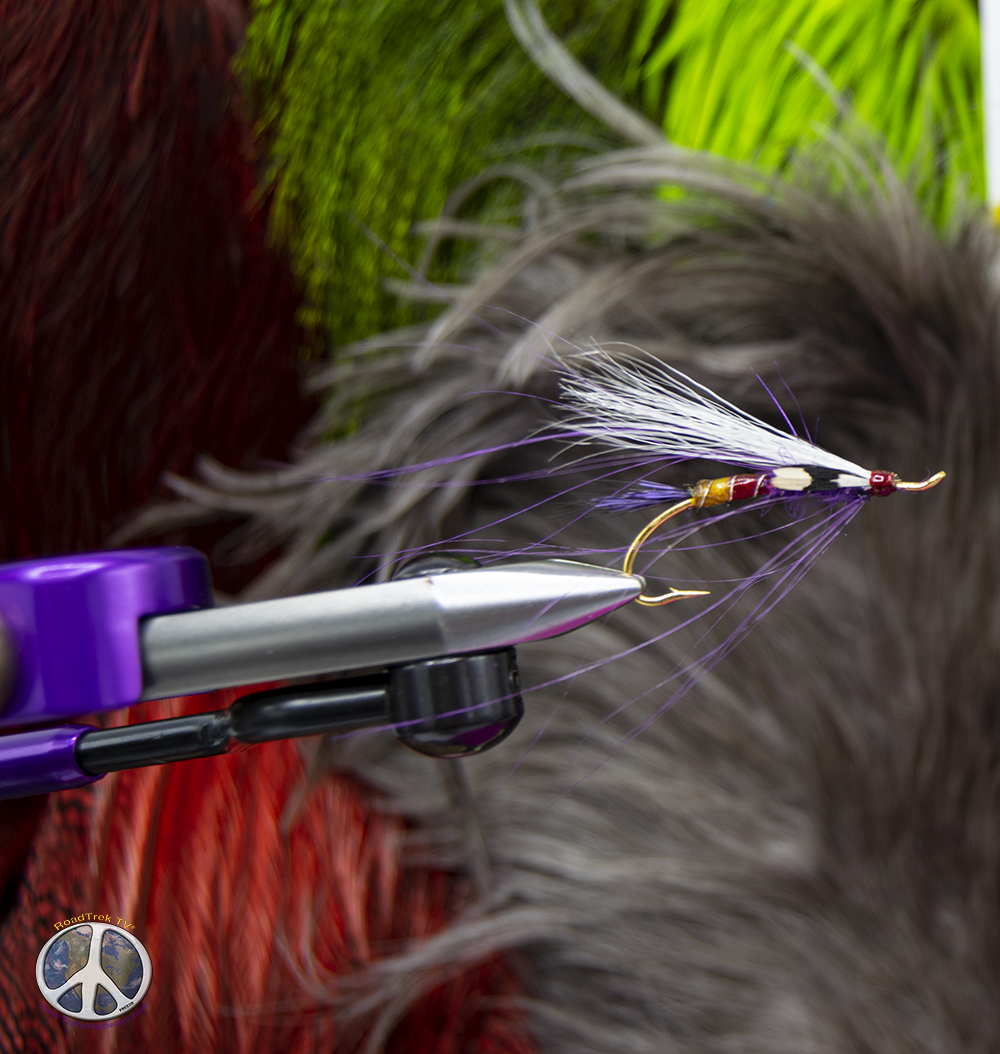 Blue Gold Spey Fly
Blue Gold Spey Fly is only the second spey fly I have tied in twenty years at least.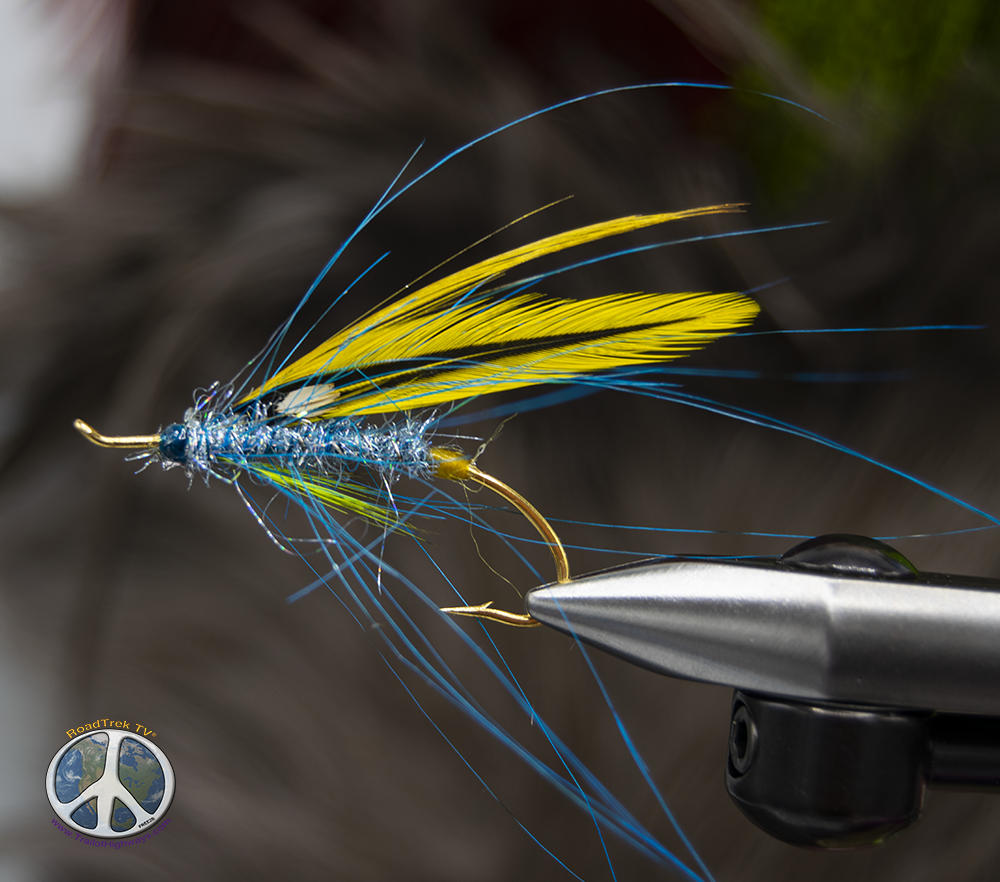 Fuchsia Flash Spey Fly
Fuchsia Flash Spey just came about having  a beer on very cold night on the eastern prairie of Montana. Tag is a thread tinsel purple flash. Once tied off the tag is coated with Loon UV Clear Finish Thin. Tail is gray squirrel dyed red, next time I am using a Whiting Farms Tailing Pack, don't really care for the squirrel look.  I am sure it will fish just fine. Tie in the silver round ribbing. I use a dubbing loop for the Fuchsia Flash dubbing. I wind up 1/3 of the way up the hood and tie in the Bird Fur.  Now continuing to the tie off point.  Wrap the ribbing evenly spaced to the tie off point at the head.  Take the Bird Fur and wrap forward while stroking the hackle fibers towards the back of the hook.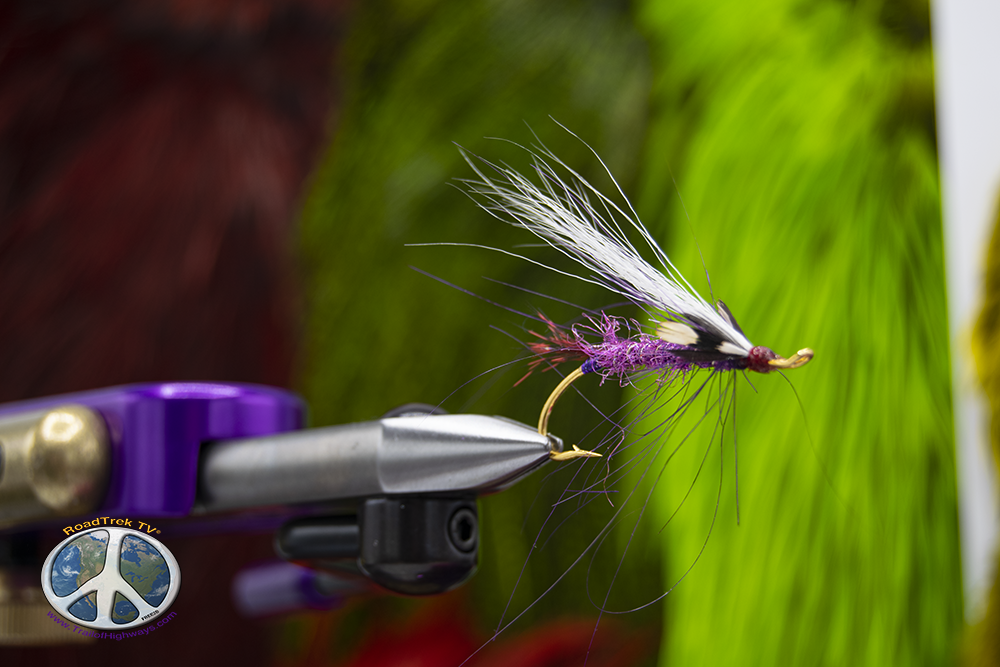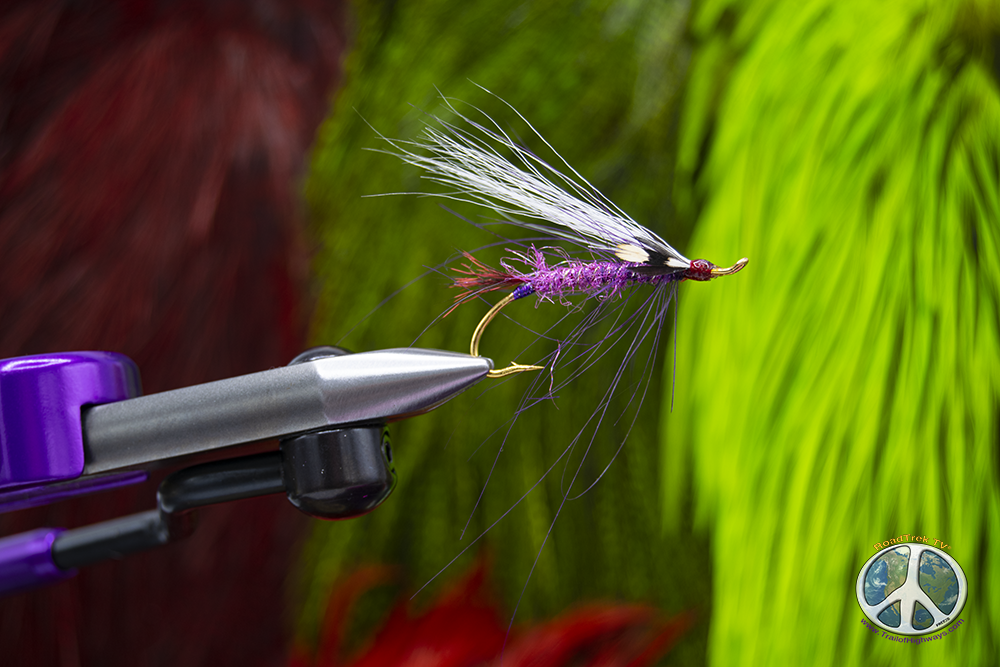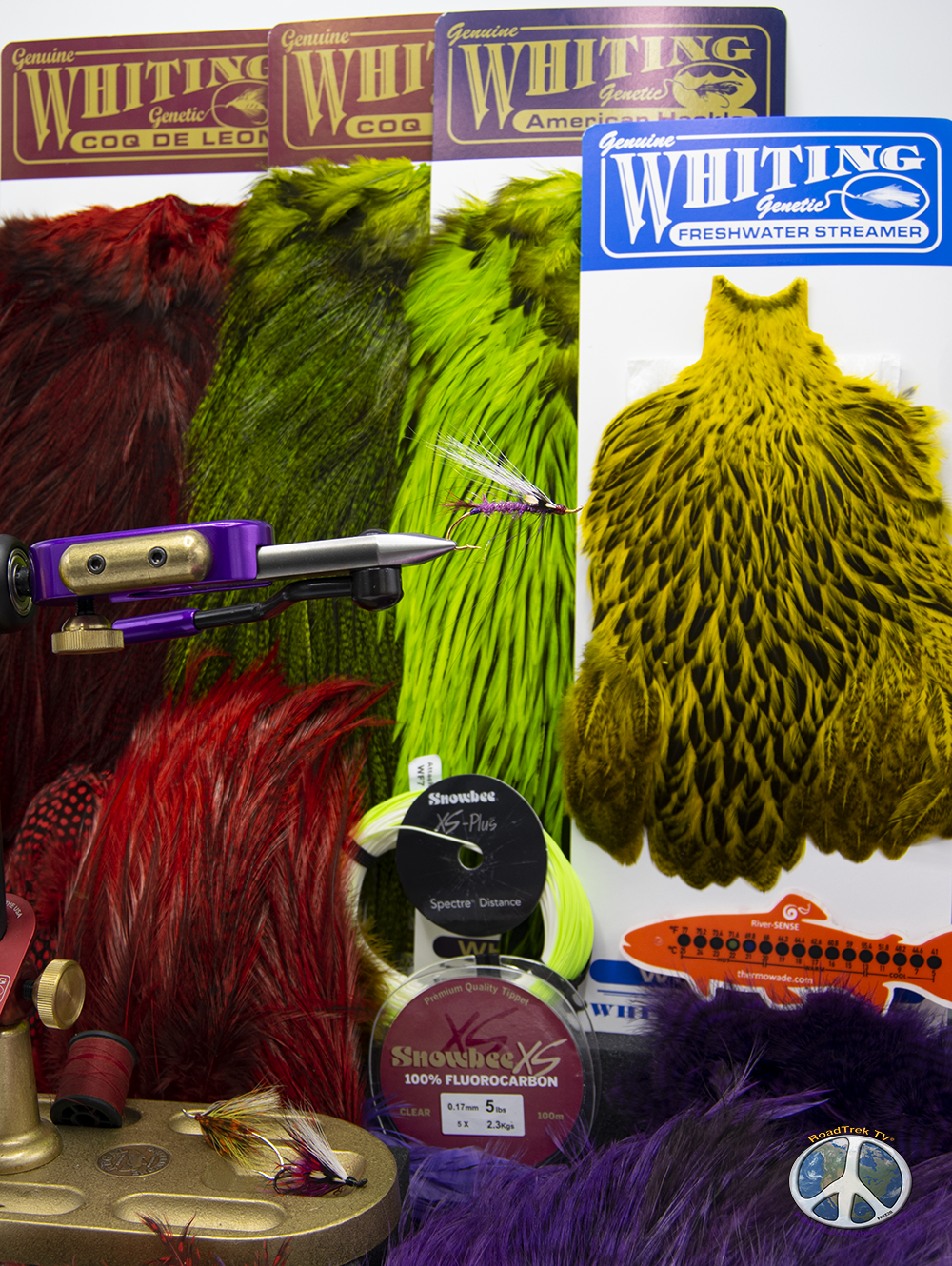 Marabou Kilt
Marabou Kilt cause you just don't know what's underneath. Tag is silver embossed tinsel 3 wraps. Ribbing, Oval Silver tinsel in tied in for the rib.  Create a dubbing loop long enough to be wrapped to the wing tie in position.  Then I tie in the Whiting Farms Guinea Dyed Red in 2/3 back toward the hook point.  Going back to the dubbing loop I strip a piece of Whiting Farms Super'Bou Dyed Purple creating the dubbing in the loop and wrapping forward to tie off position. Once Super'Bou dubbing is tied off, wind oval tinsel forward with equal spacing and tie off.  Now wrap the Whiting Farms Guinea Hackle forward to tie off position.  Cut off piece of artic fox, clean the under fur from the butt end and place tips down in the right size hair stacker. Once ends are even tie in and then tie in the jungle cock cheeks on both sides whip finish.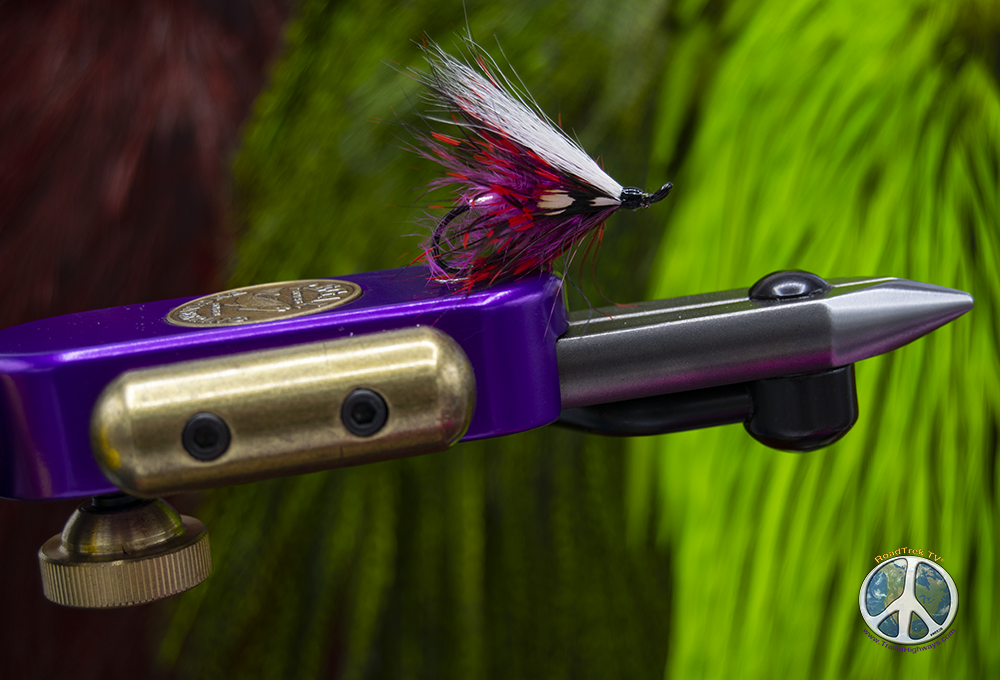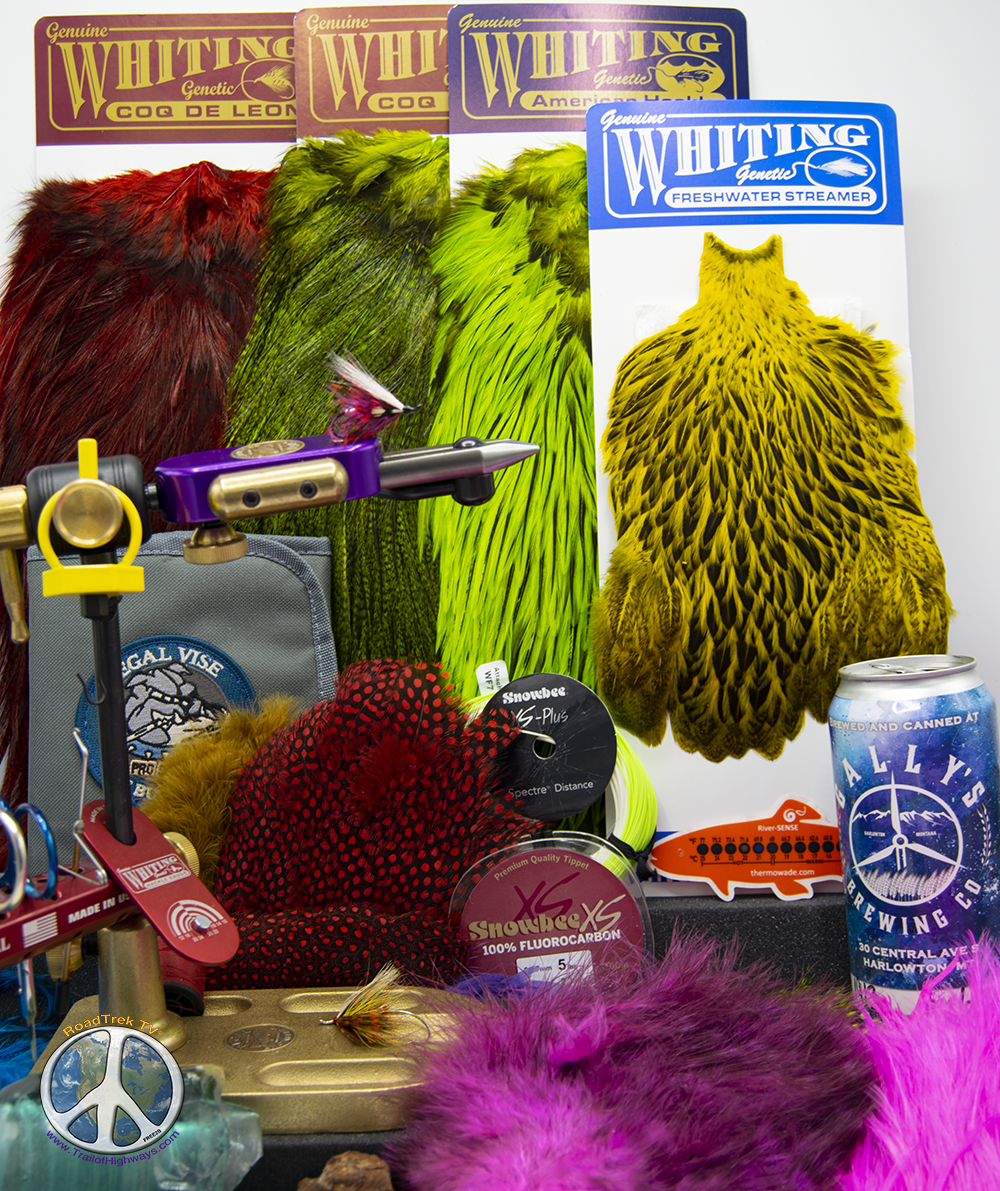 Tying a Soft Hackle Spark Ant:

Click Here
Tying Wooly Buggers/Egg Sucking Leeches: Click Here
"Tempting" Flash Attractor: Click Here
Great Fly Fishing Apparel and Accessories
---
Hoodie Fly Fishing Apparel Took the One Rainbow Trout AD Maddox: Click Here
Tarpon Hookup SunPro Hoodie Saltwater Fly Fishing Apparel:

Click Here
Fishing Fishwater Neck Gaiter Outdoor Apparel: Click Here
Peacock Bass Fishing Apparel Gloves: Click Here
As a company, as individuals and a group, we are strong supporters of public land and can't stress enough how everyone needs to get involved with a local conservation in your area and do all we can to save our "Wilderness Areas, Monuments, and other Public Lands".
Don't Let Our Government become very reckless with Nature and Our Public Lands! Support Your Local Conservation Organizations!
Colorado hiking trails offer a diverse topography and environment. In this environment we field test our hiking clothes, fishing shirts and lots of fly fishing gear. Fly Tying Recipes can be found on pages within.