Tying Soft Hackle Flies Increase Fish On Possibilities
Depending on the angler you speak with, few things top the list as being more satisfying and entertaining in the sport than learning the art of tying "easy" flies, where less work leads to more success.
Soft hackle flies are the perfect example of this; they use simplicity and clean lines to bring in the fish, while also being fun and effective flies that work both on the dead-drift and swung under tension methods. Naming these soft hackle flies have also been a part of the entertainment, and being that some of these patterns have been used generation after generation for over 500 years, they have become widely known. A couple of the most common and historical soft hackles are called the Grouse and Orange, as well as the Partridge and Olive by anglers. The name comes from the fly's color and the hackle it happens to be tied with. Another example is the Pearl, which is a recipe that contains a pearl body, a bit of dubbing, a bead, along with the soft hackle.
Tying your chosen soft hackle patterns is important, seeing as that they are used to imitate emerging insects, such as mayflies; however, it's important to note that their usage goes far beyond simply "matching the hatch." In almost the same way streamers elicit curiosity or aggressive strikes from the fish you're after, soft hackles will also hook fish when there is no apparent hatch going on at your locale.
Traditionally not weighted, soft hackles are basically intended to be fished directly under the surface film. There are more modern choices that incorporate brass or other heavier weights, if wanting to go a bit further down, into their design. By utilizing a small bead or just a little "flashy" bit of material to add to the effectiveness of your soft hackle, you can simply tie that in between the hatches for the sparkle to gain more attention from the fish.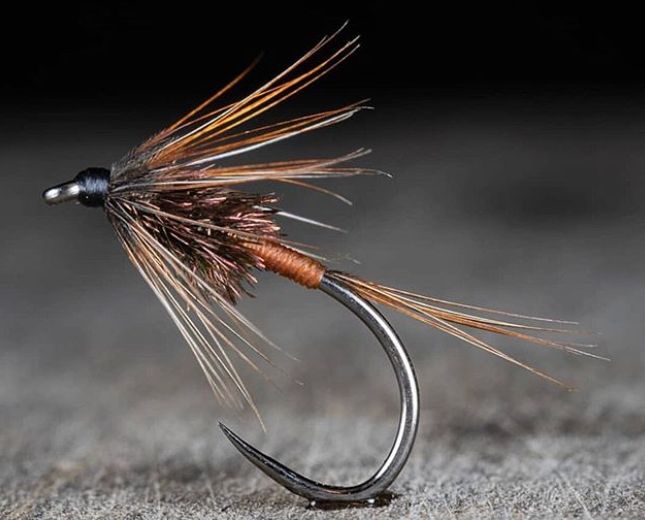 Once tied, doors to a variety of fishing techniques are open to you: whether you cast it upstream, dead drift under a strike indicator, or swing under tension –such as a down-and-across swing – they can be fished in many ways. Another popular and highly effective method to learn is the "drift and lift" with soft hackles, where the upstream cast and drift is combined with a bit of a swing and lift under tension at the end.
Anglers can check out a variety of videos found on YouTube and across social media sites to get a full course on how to perfectly tie that soft hackle fly.
Evolution of Fly Tying: Click Here
Tying a Soft Hackle Spark Ant: Click Here
Tying Wooly Buggers/Egg Sucking Leeches: Click Here
"Tempting" Flash Attractor: Click Here
Big Fish Flies Streamer Fly Fishing Techniques: Click Here
Great Fly Fishing Apparel and Accessories
---
Hoodie Fly Fishing Apparel Took the One Rainbow Trout AD Maddox: Click Here
Tarpon Hookup SunPro Hoodie Saltwater Fly Fishing Apparel: Click Here
Fishing Fishwater Neck Gaiter Outdoor Apparel: Click Here
Peacock Bass Fishing Apparel Gloves: Click Here
As a company, as individuals and a group, we are strong supporters of public land and can't stress enough how everyone needs to get involved with a local conservation in your area and do all we can to save our "Wilderness Areas, Monuments, and other Public Lands".
Don't Let Our Government become very reckless with Nature and Our Public Lands! Support Your Local Conservation Organizations!