Colorado's Lost Creek Wilderness & Harmonica Arch Meet Your Wanderlust Need
There are a great many stunning, spectacular views that are coveted in the state of Colorado; that is a bona fide fact. However, it's also a fact that the Lost Creek Wilderness, located entirely within the boundaries of the Pike National Forest, is a sight that literally no one can forget.
Lost Creek Wilderness plays home to a variety of features that everyone from hikers to campers to bikers to birdwatchers, and so many more, are able to utilize and make lasting memories. The Wilderness is just shy of 120,000 acres, and among the slew of trails, there is also a sight to behold in the form of a one-of-a-kind rainbow-shaped arch.
Becoming an officially designated site by the Colorado Wilderness Act of 1980 (with additions made in 1993), elevations in Lost Creek range from eight thousand to twelve thousand feet above sea level. If you wonder how, exactly, the area was granted this somewhat desolate name, don't be disappointed. Lost Creek was actually named after the creek of the same name that repeatedly disappears underground and then reappears again further downstream. When the Lost Creek River ends its' journey, it empties into Goose Creek.
Many Trail Heads Offer Access to Wilderness Area
Another true wonder of the area is that Lost Creek is accessed by numerous trails. In fact, it is made up of a 136-mile trail network, with 105 of those miles within the Wilderness boundaries.  When choosing trails to view, the variety is outstanding. With the system crossing tree-lined mountain parks, unique rounded granite domes, and extremely rare granite arches, your opportunities are numerous when it comes to snapping glorious scenic pictures, as well as shots of the Black bears, bighorn sheep, elk, deer, and bobcats that share the region.
Because of its proximity to Denver, it is also a wonder that this natural area lies between Colorado's two largest cities. This mighty, untamed expanse almost feels "lost" between these ever-growing metropolitan areas, and has become quite popular as an escape for "citified" Coloradans. All types of outdoor recreation can be had, continuing through both summer and winter months, because of the array of sports you can try. When it comes to the cold weather days, cross-country skiing, snowshoeing and winter camping in the Lost Creek Wilderness is absolutely perfect.
Rock Climbing Apparel, Performance Wear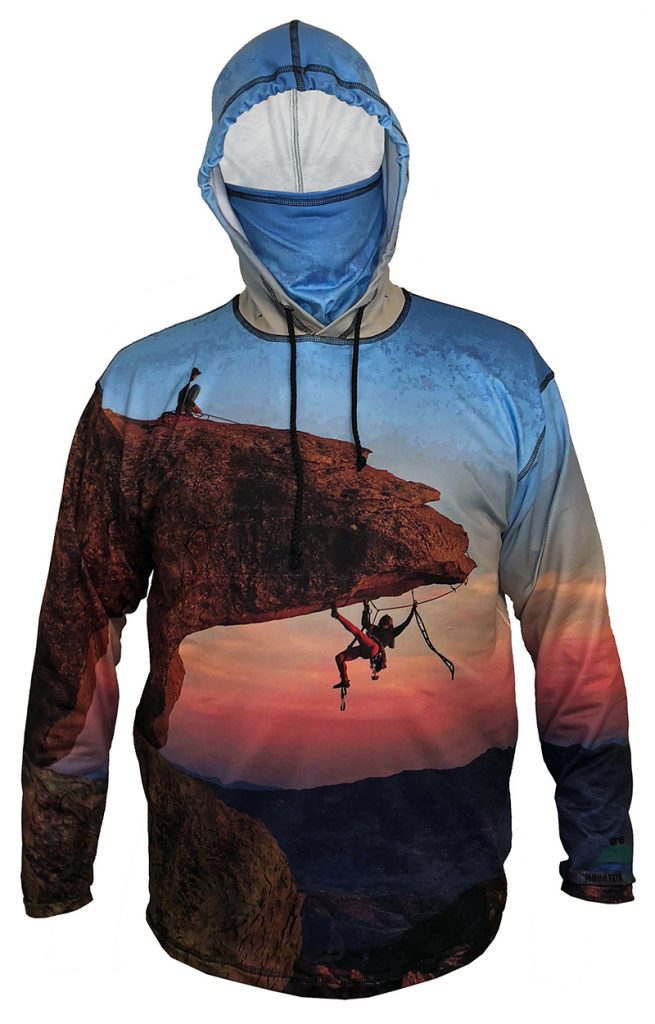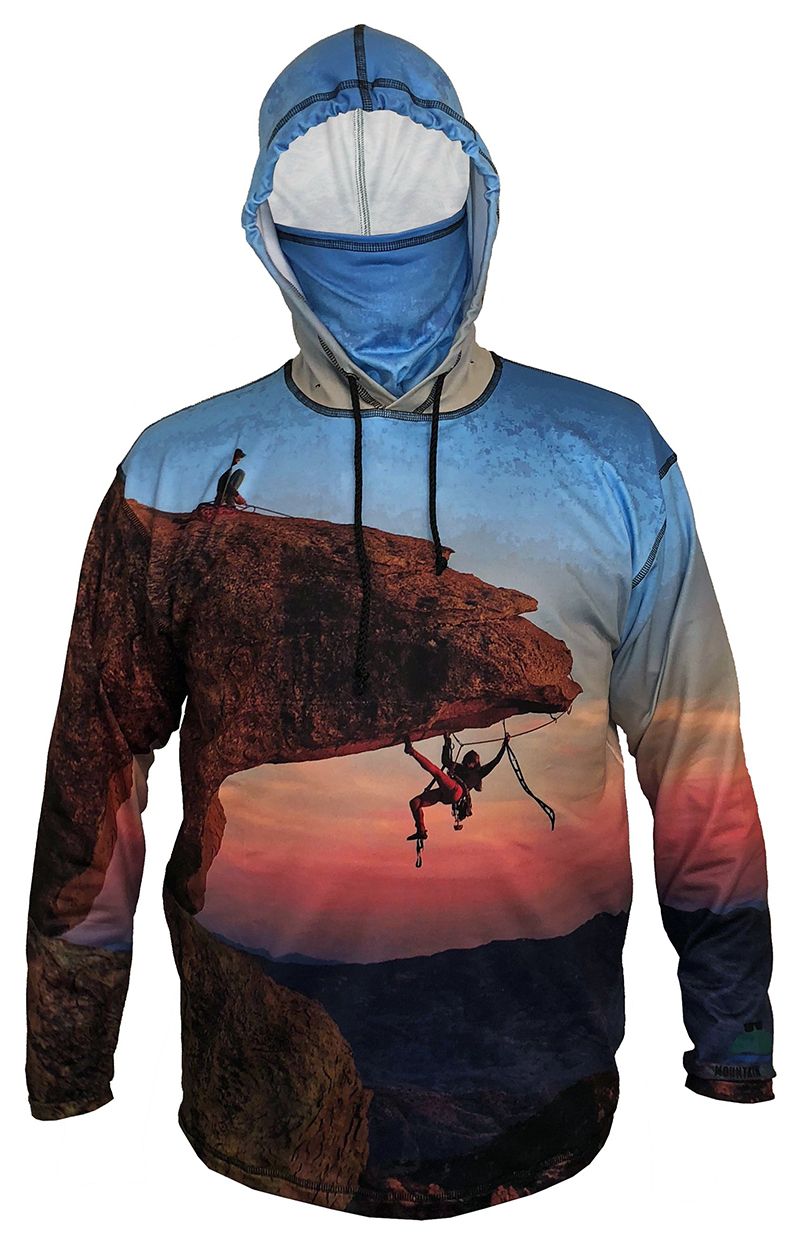 Hang Out Sunpro Hoodie
Put on Adventure, our Sun-Pro Hoodie will leave you in complete comfort while on your next big climb, run, hike or a day on the water. 
Get a Yours Click Here:
Harmonica Arch Popular Challenging Hike
With so many trails, so many formations, so many backdrops and views to choose from, it can become difficult. But for those hikers who are up to the classic, difficult climb, they will find one of the most beautiful natural arches in the world sitting atop the rock formations of the Lost Creek Wilderness. Going by the name, "Harmonica Arch," hikers who love a challenge can choose to walk the 5.4-mile Harmonica Arch Trail to see the beauty only Mother Nature had the power to create.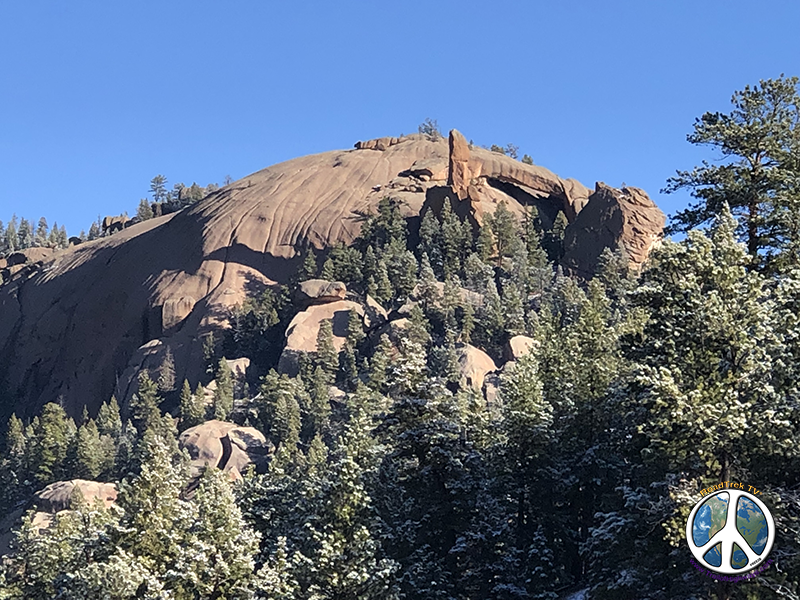 Beginning at 8,220 feet at the Goose Creek Trail head, this out-and-back trek leads up to a natural granite arch that bends like a rainbow. Relatively steep, hikers head to the first bridge crossing and continue on Goose Creek Trail, with the river at their side. The trail soon splits at the second river crossing and then steepens, before reaching a campsite offering the perfect views of Harmonica Arch. The creative scene places the formation much like a master artist would have done in their priceless work – right beside the Organ Pipe Rock – which is a pinnacle rock formation shaped like a finger.
If choosing to reach the arch, hikers continue to climb carefully. Having a span of eighty-five feet, a height of thirty feet, a width of eighteen, and a thickness of fifteen, Harmonica is one of the largest arches in Colorado. The site received its unique name based on the bronze-colored streaks that bring forth the distinctive curvature of the rock.
The scenery is absolutely incredible as you continue on your journey. But the last half-mile of the hike involves some serious thought and absolute concentration. Off-trail navigation is something you need to understand, so beginning the hike early is an absolute must in order to provide the best safety precautions. Hikers will tell you that, due to the high-altitude and the land that involves steep switchbacks and gaining nearly 1,200 feet in elevation, choosing to hike to Harmonica Arch is best done from May through November, and not in the icy winter months. And, yes, your canine friend can certainly join you, but a leash is an absolute must when walking the trail.
Colorado a Popular Tourist Destination
Colorado has always been, and will remain, one of the most popular tourist destinations when it comes to those who love communing with nature and enjoying the lush beauty of the Great Outdoors. In fact, there are those who make sure to create their "bucket list" with a variety of sites to visit in The Centennial State. Not only is the Lost Creek Wilderness a "must see," but the Harmonica Arch (along with rewarding hikes to Colorado's Royal Arch and the Rattlesnake Arches to name a few), is one location that can truly be ordained as a "heavenly place on earth."
To learn more about everything from camping sites and cabins available, to finding the perfect map of the Lost Creek Wilderness, to hunting options, water activities, winter sports, viewing up close pictures of Colorado's rainbow-shaped arch, and more, head to, https://www.fs.usda.gov/recarea/psicc/recarea/?recid=37208 today. Here, the U.S. Forestry Service provides you with an in-depth look at this incredible area you do not want to miss!
Wigwam Trail Head: Click Here
Ute Creek, McCurdy Trail Photo One; Click Here
Bison Pass Photo Two: Click Here 
Hike Harmonica Arch Photo-one;

Click Here 
Harmonica Arch Video Trail 1-1: Click Here 
Harmonica Arch Video Trail 1-2: Click Here
Wigwam Trail Hike 2-1: Click Here
Journey Continues Wigwam Trail 2-2: Click Here
Photo Essay Wigwam Trial Hike 2-3: Click Here
As a company, as individuals and a group, we are strong supporters of public land and can't stress enough how everyone needs to get involved with a local conservation in your area and do all we can to save our "Wilderness Areas, Monuments, and other Public Lands".
Don't Let Our Government become very reckless with Nature and Our Public Lands!
Support Your Local Conservation Organizations!